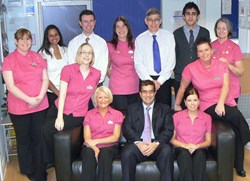 I have come to the conclusion that clarity and guidance is needed in order to try and cut down on the number of poor quality referrals.
Middleton, Manchester (PRWEB) October 24, 2012
Tariq Drabu, leading Manchester specialist oral surgery provider and owner of Langley Dental Practice in Middleton, Manchester has today issued guidelines to dental colleagues to promote high quality referrals and minimise the risk to patients from inaccurate and confusing referrals.
Tariq Drabu was discussing the issue following the recent contract extension awarded to his Dental CATS scheme, which is an innovative, pioneering referral based scheme designed to bring specialist dental surgical care closer to communities in Middleton, Heywood and Rochdale in Greater Manchester.
Speaking about the issue Tariq Drabu said "I have noticed an increasing incidence of poor quality, and inaccurate referrals. Some of them are illegible, some have the wrong tooth to be extracted, say lower left instead of lower right. Often the medical history is incomplete. Many times pre-operative diagnostic tests such as x-rays of the tooth in question have not been done which sometimes makes me wonder how a referring dentist can have assessed the tooth as being suitable for surgery. On occasions up to 40% of the referrals that I receive are deficient in some way and have to be rejected and returned to the referring practitioner."
Tariq Drabu continued "I have come to the conclusion that clarity and guidance is needed in order to try and cut down on the number of poor quality referrals. If referrals like this proceed forward within the system without any checks and balances, there could be instances where the wrong treatment is carried out. "
Tariq Drabu has issued a guidance list for colleagues wishing to improve their referrals. He said "my top 5 tips for improving the quality of patient referrals are:
1. Make sure that the correct tooth has been noted down on the referral – there have been many instances where the wrong side has been written down.
2. Make sure that referrals are clear, unambiguous and legible.
3. Always ensure that a clear, relevant medical history is done. Providing a list of medications with a referral is just not sufficient. There needs to be clarity on what the patient's medical condition actually is.
4. Make sure that adequate diagnostic tests such as x-rays are done beforehand. This will allow for better assessment of the tooth by the referring dentist.
5. Do an audit of your own referrals. I would strongly encourage dentists to look back at their referrals and audit them for accuracy, clarity and legibility. At Langley Dental Practice we undertake quarterly audits in order to reflect upon and improve the service that we provide."
Tariq Drabu concluded by saying, "at the end of the day the most important person in this whole process is the patient. We as dental health professionals must do whatever we can to make the patient journey as seamless and comfortable as possible for our service users, the patients. Poor quality and inaccurate referrals lead to a confusing state of affairs for patients and promote poor practice. High quality referrals will enhance the overall patient experience and improve clinical care and outcomes."