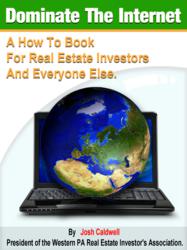 "It is not death that we wish to avoid, but life that we wish to live." Ayn Rand, Atlas Shrugged
Jacksonville, FL (PRWEB) October 26, 2012
The Pittsburgh Real Estate Investor's Association is co-promoting a three day internet marketing training seminar with Internet Marketing 4 Beginners. This seminar is geared toward small business owners who need to learn new ways to market thier products and services.
In modern business, everyone needs a web site to survive. Newspaper readership is down, and all of the old traditional forms of advertising are either not working or too expensive for a small business to afford.
This three-day intensive boot camp was designed to take someone with little to no internet marketing experience and have them up and driving traffic to their company web site quickly and with very little cash.
Brian Hanson, one of the key speakers at this event, invested $150 of his own money and turned that into over $2 Million in sales in less than a year. Would it be helpful for a small business to learn how Brian did what he did?
Here are some facts about internet business. Every second there are over 34,000 searches on Google. That number was per second. No business can afford to ignore that customer stream. Facebook has over 845 million active users, and Twitter has over 200 Million Tweets per day. Every business needs to find a way to direct some of this traffic or some way to expand the number of on line users that stumble upon the business web site. There is no other way of survival in modern marketing.
Many Americans go directly to the internet when they look for a product or service. If a company doesn't have a strong internet presence then they are losing the battle for new customers. Without new customers all business die.
For entrepreneurs who do not yet have a business or service to offer, this event could be the perfect launch point. Among the techniques that will be taught are the "middle man strategy", this is the art of making money without a product or service to offer. This is the ultimate lazy man's money making machine. The basic structure of the concept is that the middle man finds a market, and then finds a product to promote. The middle man neither makes nor services the product. The middle man just makes money by introducing the product to the market. This seminar will teach attendees everything that is needed to put this strategy into play. Learn how to make money in this economy.
This three day event will be pure content. Each of the speakers has built and grown large profitable internet only companies. There will not be a parade of speakers trying to sell you something, this is an event based on learning.
For more information and to register, just click the link IM4B, as an added bonus, attendees of this event will have the opportunity to win up to $10,000 in prizes.