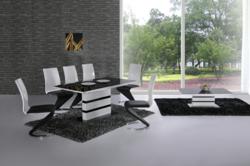 Get More for Less with FurnitureInFashions Amazing Discount Offers
(PRWEB UK) 28 October 2012
The innovative and contemporary furniture supplier FurnitureInFashion is offering innovative purchasing experience by offering more discounts on more purchase. FurnitureInFashion has structured these discount offers to increase the purchasing power of buyers around the Christmas and New Year festivity. The company will be offering these discounts regardless of the items bought which means the customers can buy anything at all in the given ranges to enjoy amazing discount offers. FurnitureInFashion is already known and popular for offering cheapest prices in its extensive furniture catalogue. Along with generous discount offerings such as this, the customers will be able to find quality and contemporary home furniture at very reasonably structured prices. The owner and Managing Director of FurnitureInFashion Asad Shamim said, "FurnitureInFashion has structured the prices by considering the factors like increasing prices, inflation and shrinking buying power. In the current time of double digit inflation, many companies are exploiting the customers by charging sky high prices but FurnitureInFashion respects its loyal and potential customers. Therefore, we are offering cheapest prices with buying flexibility and discounts in order to offer maximum price benefit to our customers."
FurnitureInFashion offers the most extensive range of furniture lines including furniture for mattresses, living room, dining room, office, hallway, bathroom, kitchen, bar and other home accessories along with lighting fixtures. From umbrellas to display cabinets and TV stands, FurnitureInFashion offers every home solution. The discount offers by FurnitureInFashion can be availed through online purchase or in-house purchase. FurnitureInFashion is offering different discounts on different prices.
Mr. Shamim explained the discounts and said, "Customers can avail three types of discount offers made by FurnitureInFashion. Customers will be rewarded with extra 5% off purchase orders over £500 which may include anything from a shoe storage cabinet to entire furniture collection for any room. Second buy more for less price discount of 10% will be rewarded to customers with a purchase order over £1500 including any item from the catalogue of FurnitureInFashion. Third and the final discount offer by FurnitureInFashion is of 15% which will be rewarded on the purchasing order over £300 by the customers. Our customers will surely be able to save a lot of budget by availing these discounts on all our product lines and other home accessories."
Mr. Shamim explained the process of availing discounts on online purchase, "If you are willing to place an online order and enjoy these discounts, register with us. Add the items to your basket and once you have finished shopping, enter your discount code, which you can find on our website, in the box marked "Coupon Code". With this simple process you will be able to place your order with us and enjoy these generous discounts." Mr. Asad said that the exclusive furniture collections offered by FurnitureInFashion are also included in these discounts. He said, "Customers can now décor their homes without requiring any assistance from interior designers by installing our invigorating and practical furniture collections for living room, bed room, hallway and bathroom. These furniture collections offer every furniture product for a practical and functional room. Customers can customize the furniture in our furniture collection to suit their requirements."
Mr. Shamim also said that he is expecting a very positive response from customers regarding these discount offers. He said that with Christmas and New Year festivity, FurnitureInFashion is all set to enjoy profits by offering discounts to its customers.
About FurnitureInFashion
FurnitureInFashion is a UK based online retail business. It supplies furniture items from its German based warehouse and has a showroom in Bolton, UK. The company provides everything from umbrella stand wall art and room dividers to bedroom, bar stools and computer tables. FurnitureInFashion offers excellent free delivery within UK and has a fantastic customer service as well. For further information and details about the sale, visit http://www.furnitureinfashion.net