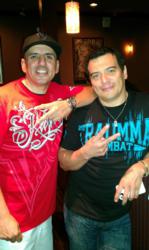 We are pleased to have the opportunity to work with the Giving Back Group and are always looking for opportunities to continue to work to better the lives of the community whether through charity or education
Sea Cliff, NY (PRWEB) October 24, 2012
This past week, on October 11th, 2012, CollegeComplete.com participated in yet another charity event. They worked this time with The Giving Back Group in Houston, Texas in an event, "Comedian Juan Villareal and Friends are Giving Back" of which the proceeds went to feeding Houston students.
CollegeComplete.com donated a firesuit jacket that was worn by a member of the CollegeComplete.com NASCAR Camping World Truck Series pit crew of the #6 truck driven by Justin Lofton, and 3 victory hats from the 2012 Charlotte win to the event. The event was created to help feed young students in Houston. The items donated by CollegeComplete.com were a part of a silent auction whose purpose was to raise money for the event. CollegeComplete.com was thrilled to be a part of an event that benefitted students in such a way.
Roger Contreras of The Giving Back Group stated that they hope to continue to work with College Complete on future events including potentially conducting a NASCAR auction in the future.
College Complete CEO, Dan Haim said " We are pleased to have the opportunity to work with the Giving Back Group and are always looking for opportunities to continue to work to better the lives of the community whether through charity or education."
CollegeComplete.com has also helped the Leukemia and Lymphoma Society and AAMDS.org. Recently, as well, CollegeComplete.com helped out a family in Glen Head, New York, who was battling a brain tumor. CollegeComplete.com has been known to work with many other charities such as their work to help the Sea Cliff Fire Department in helping them raise funds by donating several NASCAR memorabilia to the cause. More information on CollegeComplete.com's charity work can be found at http://www.collegecomplete.com/charity. Also, CollegeComplete.com can be reached with charitable requests by contacting Dan Haim at Dan(at)edideas(dot)com.
About College Complete
Partnered with hundreds of educational institutions and across all types of education goals, including traditional college degrees, trade and vocational certifications, and professional licensure, College Complete helps students assess all of the information that exists in the public domain, allowing them to understand and make sense of their educational opportunities. Their services are free and available to anyone. Whether you are interested in Art and Design, Business, Computers and Technology, Criminal Justice, Education, Healthcare and Medical, Science and Engineering, and much, much more; if you're an Electrician, a Nurse, an Automotive Mechanic, a Teacher, a Police Officer, or you're simply interested in learning Computer Programming, Networking, Web Development, or Graphic Design, College Complete is available for you at no cost. You can reach them by filling out a form on their site or calling to speak with your personal Education Advocate at 877-543-2655. College Complete has an initiative to assist those in the US Armed Forces and their families and is able to assist in identifying schools that will not only provide the educational requirements of the soldier, veteran or family member but will do so in a cost effective manner.
About The Giving Back Group
Their Mission Statement is:
Making a child smile, feeding someone who's hungry, saving a life by donating your blood or stem cells. These are the core elements that formed this group. It has grown and I hope to foster those ideas. I truly believe that everyone of us would participate if we only knew how. That's what I hope to do. Provide a platform to collect ideas and information that will become a resource for those that seek answers and assistance. I am alive today because of someone taking the time to make a donation of blood, food, prayer & marrow. I am not alone, there are others like me. You can make that difference. I hope to show you how.
You can contact The Giving Back Group by emailing txplumber(at)gmail(dot)com, or by visiting thegivingbackgroup.org/ or their Facebook page, http://www.facebook.com/thegivingbackgroup