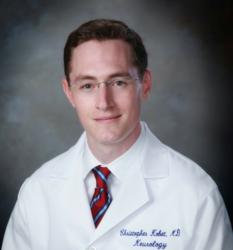 Fredericksburg, VA (PRWEB) October 24, 2012
Christopher A. Kobet, MD, will be featured on Animal Planet's "Monsters Inside Me" series Friday, October 26 at 8 p.m. in the episode "My Daughter is Losing Her Mind." The segment will recount how the Mary Washington Healthcare (MWHC) neurologist diagnosed a little-known neurological disorder as the cause of a woman's inexplicable hallucinations. The story originally appeared in the Springfield (Ohio) News-Sun.
Dr. Kobet, a movement disorder neurologist with MWHC's Rappahannock Neurology Specialists, encountered Kiera Echols at University of Cincinnati (UC) Health University Hospital in 2009 when Dr. Kobet was a fourth-year neurology resident.
Echols, then 22, was suffering from unexplained delusions and had been misdiagnosed twice before when she was examined by Dr. Kobet. After running tests, Kobet correctly diagnosed Echols' condition as a neurological disorder called anti-NMDA receptor encephalitis.
View a clip from the "Monsters Inside Me" episode at http://neurology.mwhc.com.
Dr. Kobet, along with Echols and her family, believe her story will help educate doctors and the public about a treatable condition that was discovered only five years ago.
Dr. Kobet, pronounced ko-bette, has a special interest in treatment of Parkinson's Disease. He is experienced in the careful process of selecting patients as candidates for deep brain stimulation (DBS)—surgical treatment that can help those suffering from the most disabling motor symptoms of Parkinson's and essential tremor, despite optimized pharmacotherapy. Dr. Kobet also treats other movement disorders, including restless leg syndrome, dystonia, and Huntington's Disease.
Learn more about Dr. Kobet at mwhc.com/mwhc-neuroscience-center/neurology/physicians/dr-kobet.
Note: "Monsters Inside Me" air dates are subject to change.
###
Mary Washington Healthcare is a fully integrated, regional medical system that provides inpatient and outpatient care through over 40 facilities and services including Mary Washington Hospital, a 437-bed regional medical center, and Stafford Hospital, a 100-bed community hospital. Mary Washington Healthcare is a nonprofit health system and has a long-standing commitment to provide care regardless of ability to pay. For more information about our services and facilities, visit http://www.MaryWashingtonHealthcare.com.