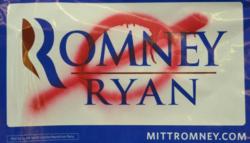 Washington D.C. (PRWEB) October 24, 2012
TheTeaParty.net condemns the threats of violence made against Governor Romney. Given the lack of media attention given to the outpouring of threats against Mr. Romney, TheTeaParty.net wishes to make its stand very clear and thoroughly condemn the threats by Obama supporters to commit violence against, or even assassinate, Governor Romney should Obama be defeated.
"What's almost as despicable is the mainstream media's unwillingness to publicize this story. If there was a significant portion of Twitter users threatening the life of President Obama, there would be media focus on the intolerable threats of violence," stated Todd Cefaratti, Freedom Organizer for TheTeaParty.net. "The media's willingness to disregard the promises of rioting and the threats against Governor Romney in the event of an Obama loss signals an obvious bias."
"People are free to passionately disagree in America. What is unacceptable, however, is the promise of violence as a means of expressing dissatisfaction with election results," Cefaratti continued. "Enough people on Twitter and social media sites are promising harm and even death to Romney if he is elected, and this growing number is alarming. We condemn these threats and we call on the mainstream media to join us in condemning these threats and urge them to do the job the alternative media is willing to do and report on this rising and alarming trend."
For more information and to see many examples of these threats against Governor Romney, please visit: http://www.infowars.com/obama-supporters-continue-threats-to-riot-assassinate-romney/
Founded in 2009, TheTeaParty.net (TTP), a 50l (c) 4 is one of the nation's largest Tea Party organizations with over 1.5 million members contacted through email and social media. Devoted to providing educational and leadership resources to local organizations, TheTeaParty.net offers free tools, including a national calendar, petitions, Tea Party locator map, free virtual and location-specific events.