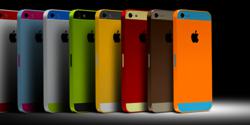 Winona, MN (PRWEB) October 25, 2012
ColorWare, a company dedicated to customizing unique products for fashionable and tech savvy individuals, today announced the launch of the iPhone™ 5. ColorWare has 46 unique colors to accentuate the impressive new iPhone 5 design.
"We are really excited about the new iPhone 5 because it's thinner and lighter and has a larger screen size. But, the best part about the new design is the three customizable parts on the back; it allows our customers to be more creative. We love to provide more choices for our customers and now you can choose up to three colors on the back of the iPhone 5," stated Jason Sobotta, ColorWare V.P. of Business Development.
ColorWare enthusiasts now have the ability to pair the cutting-edge customization process with the new iPhone. The customization process on all of our products is refined and quality control is rigorous. Not only is the iPhone 5 a remarkable device, but the level of quality on the bespoke paint finishes are astonishing.
The iPhone 5 is thin and light and packed with the most forward thinking technology on the planet. The all new aluminum design features a 4" Retina display and contains a speedy, yet efficient newly designed A-6 chip.
There are five customizable elements including, the back panel and frame, the top back panel, bottom back panel, front button and sim card tray. The iPhone 5 with customization is $1,700.
About ColorWare
ColorWare was founded on the idea that electronic devices could be more appealing than the standard colors offered by the original manufacturer. ColorWare products are creative and fashionable, giving their customers something unique that sets them apart from all the rest.
ColorWare is the only company in the world where you can create your own bespoke electronic device. The range of products spans from headphones to computers, portable PC's, phones and gaming consoles. For more information please visit http://www.colorware.com.
Media Contact:
Nicole Czarnomski
nicole (at) colorware (dot) com
507-205-4118