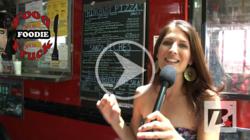 Food Trucks are the future of fast food.
New York, NY (PRWEB) October 25, 2012
Food Truck Foodie
Busy workers eat lunch everyday, but rarely do they enjoy a meal, especially not one that is both delicious and healthy. So what's a person supposed to do? The food truck revolution has arrived.
BizCastr.tv's new reality web series, Food Truck Foodie, will show the trucks, where even the most discerning foodie can get a satisfying meal.
Host Angie Bullaro will meet the crews and the customers, try the different foods and give an insider's view on what it takes to run a food truck on the busy streets of New York.
This may be food on wheels but it is not fast food. Food trucks line up to deliver customers with fresh, juicy and delicious food, every day, all over the city.
Tune in every week and catch a new truck, a new food style and a new view on life in the streets of New York, with Food Truck Foodie.