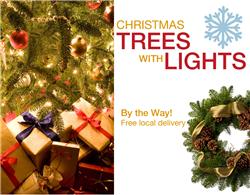 Giving back is fundamental to The Garden Gates' philosophy; we wouldn't have it any other way.
Metairie, LA (PRWEB) October 27, 2012
The Garden Gates announces its annual fundraiser to benefit local schools, charities and organizations. 10% from each sale of Christmas trees, holiday greens and poinsettias will benefit a group in need as determined by each customer. Upon checkout, customers can choose where the 10% portion of their sale will go. This is not 10% on top of the sale, but 10% from the sale, which is donated by The Garden Gates once the holidays are over.
Each year, The Garden Gates donates over $15,000 to the local schools and groups on the fundraiser list in addition to much more throughout the year to local organizations and events. Potential participants are notified each fall to get their group involved. The Garden Gates only includes participants who choose to be in the program; none are included without consent.
"It's important for us to give back to the community that supports us and to do our part each holiday season," said Chad Harris, owner and co-founder of The Garden Gates, "Giving back is fundamental to The Garden Gates' philosophy; we wouldn't have it any other way."
There are no limits to amount of money raised, and each group is required to internally promote the holiday fundraiser with family, friends and anyone involved with each organization. Once all of the holiday sales are totaled, The Garden Gates sends a check to each participant that is to be used as each group sees fit. There are not any stipulations or conditions with these donations.
This year, The Garden Gates will include most participants from last year's fundraiser plus a number of new schools and organizations, as requested by customers throughout the year. If you or someone you know has a group that would like to join The Garden Gates' annual holiday program, please contact alyse (at) thegardengates (dot) com or call (504) 833-6699 for more information. Only schools and charities in the New Orleans metropolitan area may participate.
About The Garden Gates:
The Garden Gates was founded by Jacqueline Elizabeth Kendall-Harris and Chad Harris in 1999. Jacqueline plays an instrumental role in product development, interior design and in developing core principles of The Garden Gates lifestyle. Chad plays an instrumental role in the creativity of the brand, marketing and technology of the business.