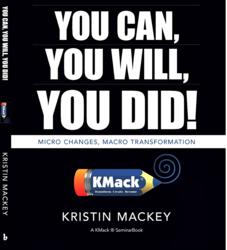 You Can, You Will, You Did! focuses on key principals of transformation known as The Five Creative Powers inspiring readers to recognize their own ability to change their lives.
MIRAMAR, FL (PRWEB) October 31, 2012
"For over twenty years my passion for personal development and creative expression led me to design and deliver workshops that successfully taught over 18,000 people how to take action and improve their lives," said Kristin Mackey. "This book offers the insights and methodologies that delivered the best results."
You Can, You Will, You Did!, which was also illustrated by the author, reflects the same delivery style used in hundreds of highly rated seminars and recreates the experience of attending those workshops. Kristin's playful approach in this unique "SeminarBook" inspires readers to clarify, organize and shift their life toward their intentions to create their own unique blueprint for living.
You Can, You Will, You Did! - available on Amazon
About the Author
Kristin Mackey
With over 15 years as a successful professional speaker and instructor working with more than eighteen thousand people, and hundreds of organizations in over 400 cities, Kristin's teaching knowledge runs deep. Recognized by Training Magazine as "One to Watch" in 2010, and a highly-rated consultant for leadership company FranklinCovey, Kristin's intuitive, playful style of delivery and easy-to-implement techniques consistently deliver results.
Kristin has helped many companies achieve organizational transformations through teaching programs that increase the effectiveness, engagement and performance of each individual. Her passion for helping people to heal, clarify and create lives they love is what makes her teaching style so universally and consistently effective.