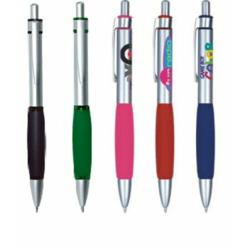 no1 printed pens, the only pens company with no minimum order
West Midland, Birmingham (PRWEB UK) 25 October 2012
Most people think of a pen as just something to scribble down notes with, complete crosswords or sign documents with. But more and more people are realising the full opportunity of one of the items people use most commonly in their day to day lives.
Many companies are using promotional pens as a cheap yet effective way of promoting their brand to a wide range of people. Clients remember and are loyal to businesses that give away free advertising pens with their logo on.
There are few better ways to get a brand or logo in the hands of client on a day to day basis. They are a great way of establishing brand awareness and spreading the message that your company wants to get out to its customers.
Pen World doesn't sell single pens but they can cater for small orders as well as big, meaning they're suitable for wholesaler and retailer. Customers can order as few as 100 pens, starting from just 39p each. Pen World then offers generous discounts for bigger orders.
But it's not just businesses that are using printed pens. Many customers order printed pens to give as a personal memento of a special occasion. Wedding pen favours are becoming a great hit with customers and a unique way of remembering a special memory.
Pen World can provide their customers with samples of any pen before they decide to order them in bulk. Their website has a wide range of pens ready to choose from, but if there is a type of pen that their customer desires they can quickly source any kind of pen.
A company spokesperson said: "Pens World is dedicated to providing a first class service & product. We implement the latest printing and quality assurance techniques in order to guarantee customer satisfaction every time."
"All the products we offer can be branded with a logo or text providing your brand or idea the ideal opportunity to get noticed."
Pen World offers a no set up free service and charges no origination fee to print your own message or logo onto a pen. Customers only pay for the product itself. A fast shipping service is offered, meaning that the product can be ready for sale or distribution shortly after ordering.
For more information on about personalised pens, browse Pen World's website at http://www.no1printedpens.co.uk or contact them directly via phone or their website.