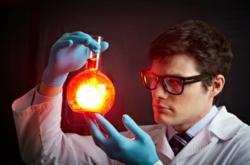 Companies often come to us to reformulate their product in order to market it towards new niche markets.
(PRWEB) October 25, 2012
Avomeen Analytical Services utilizes its extensive experience in deformulating product formulations in order to breakdown cleaning, cosmetics, pharmaceutical, coating, adhesive and other commercial and industrial products into their basic components. Using the information gained from characterizing, identifying and quantifying all of the ingredients within a products formulation their scientist are able to solve products weaknesses, lower production costs, reduce potential for product failure, and re-engineer the existing formulation into a superior product.
Shri Thanedar Ph.D. chemist and CEO of Avomeen Analytical Services explained "Companies often come to us to reformulate their product in order to market it towards new niche markets. Our state of the art technology and knowledge of the latest techniques available allows our chemists to re-engineer client's products to be eco-friendly, anti-aging, last longer on the shelf, have a pleasant odor, as well as other aesthetic or performance changes. At times we can even help to lower client's production costs and advice on ways to reduce the likelihood of future product failure which ultimately helps to prevent damaging product recalls."
Shri went on to give an example of previous work completed "We had a local manufacture that wanted to understand why his ball-point pens were underperforming in comparison to an overseas competitor. We deformulated our clients and the competing product and were able to identify what ingredients within the product was giving it a brighter color and faster drying time. Some of the instruments used for this process included NMR analysis, FTIR testing, and a GC-MS analysis but it was our ICP-MS that discovered the metallic compound that was giving the competing ink its superior performance boost. Using the data collected we were able to re-engineer our clients product to contain both the metallic compound which acts as a catalyst during the curing process and several additional other additives which were found to be responsible for the increased brightness."
Avomeen Analytical Services - who has been a leader in product reverse engineering and re-engineering, also called deformulation and reformulation services and has recently expanded into custom product formulation. Dr. Thanedar explained "Recent additions to our talented staff in addition to acquiring several new advanced instruments have allowed Avomeen to begin developing new products based on our client's innovative ideas. We wanted to be able to help entrepreneurs get their first product on the shelf and support existing manufactures expand their product line. Our decision was ultimately based on feedback from previous clients whose product we had improved upon. After the success they received from their products being able to reach new niche markets previously out of reach, they wanted Avomeen to create a new product for allowing them to expand their product lines; it was really a natural transition."
About Avomeen:
Avomeen is a non-routine product development and investigative laboratory that specializes in product deformulation, reformulation and formulation services. This coupled with their ability to solve tough product failure problems and skill at material and contamination identification has allowed Avomeen to experience tremendous growth. Specializing in paints & coatings, cleaning products, cosmetics, food & beverages, adhesives & sealants, pharmaceuticals & supplements, rubbers, polymers & plastics, and medical device packaging the advanced testing laboratory has expertise in a range of commercial and industrial industries. Realizing that not all of their clients have an in-depth experience with chemical analysis services they provide free consultations with their Ph.D. chemists and produce their detailed reports to contain summaries, charts, and detailed data which helps to simplify the complex processes utilized by the chemical analytical laboratory.
Learn more at http://www.avomeen.com