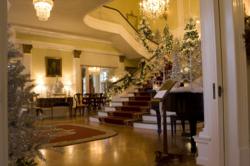 Alabama's gardens, trails, historic homes and parks light up for the holiday season.
Montgomery, Ala. (PRWEB) October 25, 2012
Alabama's gardens, trails, historic homes and parks light up for the holiday season. Visitors can see historic homes and mansions decorated with lights and holiday finery in Eufaula, Decatur, Opelika, Demopolis, Mobile, Tuscumbia and Montgomery. Parks in Arab and Florence offer dazzling light displays and winter wonderlands, while gardens in Huntsville and Mobile showcase millions of lights and hundreds of displays.
Visitors can catch spectacular holiday displays at these 40 historic homes and holiday light festivals suggested by the Alabama Tourism Department:
Childersburg — Desoto Caverns Christmas Sound, Lights & Water Show
Nov. 1-Jan. 1, admission charged
This special light show commemorates the Christmas story of Jesus Christ with thousands of lights setting the cave aglow. The show takes place on each cavern tour during November and December. Mon. – Sat. 9 a.m. – 4:30 p.m., 256-378-7252, http://www.desotocavernspark.com.
Huntsville — Galaxy of Lights Holiday Light Show
Nov. 22–Dec. 31, admission charged
Celebrate the holiday season with a drive through the Huntsville Botanical Garden nightly from
5:30 – 9 p.m. beginning Nov. 22. This magnificent holiday light extravaganza features thousands of lights and more than 700 lighted displays arranged in 125 varied holiday scenes and themes. 256.830.4447.
Arab — Christmas in the Park
Nov. 23–Dec. 31, admission for Historic Village, but park is free
A dazzling display of nearly two million holiday lights transforms Arab's city park into a winter wonderland. Visitors can enjoy holiday music and special decorations in the Historic Complex, which features an old church, a school and an operational gristmill. Village hours are 5:30 – 8 p.m.; park is open until 10:30 p.m., 256.586.8128.
Calera — The North Pole Express
Nov. 23 – Dec 17, fee for train ride
Families can take a magical trip to the North Pole on a train at the Heart of Dixie Railroad Museum. Lots of holiday lights and displays, hot chocolate, cookies and Christmas carols are a few of the highlights Friday through Sunday nights with train departures at 5, 6:30 and 8 p.m. 205.382.3946, http://www.HODRRM.org.
Huntsville — Santa's Village
Nov. 23- Dec. 23, admission charged
Kids will have fun at Alabama Constitution Village as its turned into Santa's Village. Enjoy a nightly snowfall, hear stories from Mrs. Claus, see live reindeer, decorate cookies in Santa's kitchen and listen to local groups perform holiday music. Open 5-9 p.m. 256.564.8100, http://www.earlyworks.com/santasvillage.
Mobile — Bellingrath Gardens Magic Christmas in Lights
Nov. 23–Dec. 31
Stroll through a wonderland of more than three million twinkling lights and 928 custom-designed holiday displays throughout the 65-acre estate during Magic Christmas in Lights at Bellingrath Gardens in Mobile. Tour the historic Bellingrath Home decorated in its holiday finery, enjoy nightly entertainment and visit with Santa. Light show and home tours nightly 5 – 9 p.m., closed Christmas Day. 800.247.8420.
Silverhill — Artic Express
Nov. 23-Dec. 24, admission charged
The railway and park at the Wales West RV Resort and Light Railway are decorated with more than one million lights, figures and blow-ups with miles of ribbon and garland. The steam powered train leaves the station for a mile-long ride through the wonderland of lights. Each child receives a handmade wooden locomotive as part of their visit. Sat. – Sun. 1-9 p.m. 251.978.3050.
Demopolis — Christmas on the River
Nov. 29 – Dec. 2, fees for attractions only,
Four days of activities on the Tombigbee River and downtown include a lighted nautical parade with fireworks, candlelight tours of antebellum homes, a "Jingle Bell Run" on Saturday and a BBQ Championship Cook-off Friday night. Sat. 7:30 a.m. – 3:30 p.m., nautical parade 6:30 p.m. - 8:30 p.m. 334.289.0270, http://www.christmasontheriver.com.
Gadsden — Noccalula Falls Christmas at the Falls
Nov. 29-Dec. 23, admission charged
The park is aglow for the holidays with millions of lights that are synchronized to music. Park visitors may stroll through the mesmerizing display on foot or take an exciting train ride through the park. Christmas at the Falls includes a train ride, Pioneer Village and a visit with Santa. Kids can also write Santa a letter and mail it at the old post office. Visitors will also be able to see the 90-foot waterfall in all of its splendor. 256.549.4663.
Huntsville — Kris Kringle's Candlelight Christmas
Nov. 30 – Dec. 1, admission charged
Hundreds of flickering candles will add to the nostalgic feel of candlelight Christmas at Burritt on the Mountain. Visitors will enjoy cider, baking cookies, figgy pudding, stringing popcorn and visiting with Kris Kringle on the star-lit mountain. 5- 8 p.m., 256.533.4118.
Columbiana — Christmas Tour of Homes
Dec. 1, admission charged
The City of Columbiana opens various historic homes and museums for tours 11-3 p.m., 205.669.5800, http://www.cityofcolumbiana.com.
Dauphin Island — Christmas Through the Ages at Fort Gaines
Dec. 1, admission charged
Join soldiers and their families as they celebrate Christmas as it was in the 1700s-1900s. There will be pottery and blacksmith demonstrations and ornament making activities for kids from 9 a.m. – 5 p.m. 251.861.6992, http://www.dauphinisland.org.
Demopolis — Holiday Open House
Dec. 1, admission charged
Visitors can tour the beautiful, historic Gaineswood Mansion by candlelight. Enjoy holiday decorations and treats during the tours from 1-3 p.m. 334.289.4846.
Eufaula — Christmas Tour of Homes
Dec. 1, admission charged
Visitors can stroll through downtown to see the antebellum homes aglow in holiday splendor. Enjoy a seated luncheon or dinner at the grand, historic Shorter Mansion. Daylight tours 1-5 p.m., twilight tours 5-8 p.m., 334.687.6664, http://www.eufaulapilgrimmage.com.
Gulf Shores — Swift-Coles Home at Bon Secour Holiday Open House
Dec. 1, admission charged
The 16-room, 10,000 square-foot historic tidewater mansion overlooks the Bon Secour River and will be decorated for the holidays. The holiday tour is from 10 a.m. to 4 p.m. through December with regular hours of Tues. and Fri. from 10 a.m. to 4 p.m. For more information call 251.580.1897.
Mobile — Candlelight Christmas at Oakleigh
Dec. 1, admission charged
Step back in time and enjoy a festive 19th-century holiday celebration. Enjoy seasonal music, guided tours, Victorian Santa and refreshments 10 a.m.-4 p.m. Hot chocolate will be offered during the Candlelight tours from 5:30 – 7:30 p.m., 251.432.6161, http://www.historicmobile.org.
Mobile — Christmas on the River
Dec. 1, free
Alabama's official tall ship, the Joshua will lead lighted, decorated boats down Dog River in Mobile's oldest boat parade. The boats circle and pass the Dog River Bridge as treats are thrown to the cheering crowd. Dusk - 8 p.m.,251.443.6300.
Tuskegee — Holiday at the Oaks
Dec. 1, free
Visit the Booker T. Washington home as it's decorated for the holidays in a special open house event by the National Park Service. 334.727.3200.
Birmingham — Christmas at Arlington
Dec. 1-2, free
Floral designers transform the interior of the Antebellum home into a replica of Christmas past. This year marks the 55th anniversary of Arlington as Birmingham's historic house museum. Open Sat., 10 a.m.-4:30 p.m.; Sun., 1-4:30 p.m., 205.780.5656.
Mobile — Christmas Celebration at Richards-DAR House
Dec. 1-2, admission charged
Each room in the Victorian townhouse is decorated in an annual theme. Guests will be treated to refreshments, holiday music and a visit with Santa. Sat., 10 a.m.-5p.m.; Sun., 1-5 p.m., 251.208.7320, http://www.richardsdarhouse.com.
Montgomery Zoo — Christmas Light Festival
Dec. 1-31, admission charged
Thousands of lights illuminate the pathways for a leisurely stroll through the Montgomery Zoo during the city's Holiday Lights Festival. Visitors can ride the train through the forested wonderland and see animals come alive in lighted displays. Check for times and dates ahead of time. Hours: 5:30 – 9:30 p.m., 334.240.4900, http://www.montgomeryzoo.com.
Montgomery — Old Alabama Town Celebration
Dec. 1-31
The house museums at Old Alabama Town will be decorated for the holidays for visitors to tour. Self-guided tours: Mon. – Sat. 9 a.m. – 3 p.m.; Guided tours by reservation for 10 or more.
334.240.4500, http://www.oldalabamatown.com.
Oneonta — Christmas Lights at Palisades Park
Dec. 1-31, free
Thousands of lights will be glowing for visitors to drive through and see. Open 5- 9 p.m. except Dec. 24 & 25. 205.274.0017, http://www.blountcountypark.com.
Athens — Ladies Civitan Club Second Annual Holiday Home Tour
Dec. 2, admission charged
Enjoy the beautiful decorated homes in the Athens community including the historic Beasley Home located in the Beaty Historic District. Tours start 1p.m. and end at 5 p.m. 256.874.2578.
Mobile — Christmas at the Bragg-Mitchell Mansion
Dec. 2, admission charged
As visitors step inside the historic Bragg-Mitchell Mansion they will be treated to an afternoon of seasonal music, sleigh rides, holiday decorations and refreshments from 1- 4 p.m. New this year: enjoy tea at the mansion on Monday, Dec. 3. Call for more information, 251.471.6364, http://www.braggmitchellmansion.com.
Tuscumbia — A Plantation Christmas
Dec. 2, admission charged
Visitors will enjoy a holiday event reminiscent of the "Old South" at Belle Mont Mansion. Traditional decorations, period Christmas music, vintage ballroom dancers and more await guests at the historic 1828 mansion, 1-5 p.m., 256.383.0783 or 256-381-5052. http://www.VisitTuscumbiaAl.com.
Decatur — Parade of Lights
Dec. 3, free
The River Walk Marina comes alive with a parade of boats lighting the way along the Tennessee River. The parade starts at 6 p.m. 256.350.2028 http://www.decaturcvb.org.
Montgomery — Governor's Mansion Candlelight Open House
Dec. 3, 10 & 17, free
For three Mondays in December, Governor and Mrs. Robert Bentley will open the Governor's Mansion for candlelight tours from 5-7 p.m. The 1907 Colonial Revival mansion located at 1142 South Perry Street in Montgomery will be aglow with lights and filled with the spirit of the season. Guests should pick up their free tickets at the Governor's Mansion Gift shop across the street on Finley Ave. 1.800.ALABAMA.
Anniston — Home for the Holidays
Dec. 4, admission charged
Area homes are decorated for the holidays and are open for tours. The self-driving tour allows participants to visit and enjoy at their own pace. 11 a.m.-7 p.m., 256.237.6766, http://www.annistonmuseum.org.
Opelika —Victorian Front Porch Christmas
Dec. 5-9, free
Step back in time for a visit to North Opelika's Historic District where visitors will see turn-of-the-century homes in all their lighted glory featuring life-sized Santas, angels, toy displays and carousel horses. Also enjoy live holiday entertainment. 334.745.4861, http://www.aotourism.com.
Selma — Sturdivant Hall Open House
December 6-7, free
Step inside this Greek revival antebellum home in historic Selma. The house will decorated inside and out for the holidays. Tours are from 10 a.m. – 4 p.m. both days. 334.875.7241.
Florence — Open House & Festival of Lights
Florence businesses and Wilson Park will be decorated in a festival of lights for Christmas. Visitors can shop while listening to music on the street corners and in the park. The jingle of bells on horses giving carriage rides adds to the festive atmosphere. 5 p.m. until, 256.740.4141.
Birmingham — Zoolight Safari at the Birmingham Zoo
Dec. 7-9, 14-16, 19-23, 26-31 5-9 p.m., members free otherwise $8
Ride the Zoolight Express Train while enjoying a half-million twinkling lights for 17 nights in December. The spirit is festive and the tradition comes complete with hot cocoa, a light show synchronized to favorite holiday tunes, trail ride and appearances by Santa. 205.879.0409, http://www.birminghamzoo.com
Dadeville — 8th Annual Tour of Homes
Dec. 8, admission charged
View homes decorated for the holidays in the Stillwaters neighborhood on Lake Martin from 9 a.m. – 3 p.m. The event is sponsored by the Tallapoosee Historical Society. 256.825.4687.
Decatur — Christmas Tour of Homes
Dec. 8, admission charged
Visitors can tour seven traditionally decorated homes and buildings complete with luminaries, fruit and greenery, and thousands of lights in celebration of the holiday season. The self-guided holiday tour provides a rare glimpse into private homes located in the city's two historic districts. Also enjoy an evening of carriage rides and refreshments. Tours are from 4-8 p.m. 800.524.6181, http://www.decaturchristmastour.com.
Gulf Shores — Civil War Christmas at Fort Morgan
Dec. 8, admission charged
Experience a Civil War Christmas at Fort Morgan as interpreters portray the lives of the Confederate garrison. This special candlelight tour is from 4-7 p.m., 251.540.7127,
Gulf Shores & Orange Beach — Annual Christmas Lighted Boat Parade
Dec. 8, free
Gather along the banks of the Intracoastal Waterway to watch this annual nautical lights display featuring a unique coastal twist. The three-hour parade starts at 5:30 p.m. at LuLu's at Homeport Marina and travels east to Zeke's Landing Marina. 251.968.6904, http://www.alabamacoastalchristmas.com.
Huntsville — Spirit of Christmas Past Homes Tour and Luminaries
Dec. 8, admission charged
The Twickenham Historic District will be aglow with luminaries, trees and front doors glistening with holiday decorations and carolers strolling along the way from 5 – 9 p.m. 256.536.7718.
Tuscumbia — Christmas Open House at Ivy Green
Dec. 8, admission charged
Visit the historic house that was Helen Keller's Birthplace and Home as it's decorated in holiday splendor. 8:30 a.m. - 4 p.m., 256.383.4066.
Greensboro — Christmas Open House
Dec. 9, free
The open house at the Magnolia Grove Historic House Museum is a holiday tradition. Guests can see the home's holiday decorations while enjoying refreshments and musical entertainment from 1-3 p.m. 334.624.8618.
For more holiday celebrations, visit the Alabama Tourism Department website at http://www.alabama.travel.