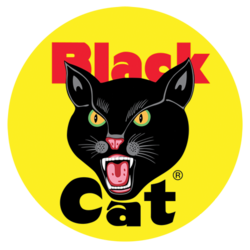 Black Cat® is the Best You Can Get!
Prairie Village, KS (PRWEB) October 24, 2012
Winco Fireworks of Ponchatoula, LA and Central Fireworks of Hattiesburg, MS are both hosting fireworks demos for Black Cat Retailers and Wholesalers that plan to sell during the upcoming Christmas/New Year's Season. These demos are going to be ones you do not want to miss! They will include food, drinks, clearance section, and key items will have special pricing. It will also be a time to reconnect with good friends and enjoy a great fireworks show.
Central Fireworks of Hattiesburg, Mississippi is our most recent addition to Black Cat®'s Master Dealer program will be hosting a fireworks demo on Saturday, November 10th. Please RSVP by Nov. 1st, you can do this by calling Central Fireworks at 601-582-8055.
Full Line Dealer Winco Fireworks of Ponchatoula, LA is hosting a fireworks demo the following Saturday, November 17th. Please RSVP by Nov. 1st, you can do the by calling the Ponchatoula office at 985-386-9611.
Black Cat® Fireworks is the most recognized brand of fireworks in the world. The Black Cat® brand was introduced in the US in the 1940's. Over the past 60 years, Black Cat® has evolved from the basic firecrackers to a product line that contains over 500 items today! Continued focus on quality and innovation has made the Black Cat® an international brand, with presence in markets all over the world.
For more information about Black Cat® Fireworks and for a sneak peak of our product go to http://www.BlackCatFireworks.com.