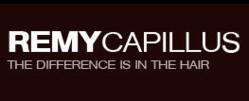 Philadelphia, PA (PRWEB) October 25, 2012
Remy Capillus announces its new ProLine hair extension line. RC's ProLine™ is a pre-colored and pre-styled line of ultra premium wefted extensions / weaves designed for those clients looking for extensions made from 100% Indian Remy cuticle hair but that would prefer their extensions be styled prior to purchasing them. ProLine™ extensions are crafted from 100% ethically sourced Remy Indian Human hair and are available in 3 textures and more than 25 colors.
Like all other lines of Remy Capillus extensions, ProLine™ extensions are made from 100% cuticle hair and may be washed, re-colored and re-styled often while being worn as if it's the client's own hair without having to worry about tangling or shedding. Unlike other wefted hair extensions offerings in the market place today, their Micro-Weave technology provides the thinnest and strongest weft available on the market. This new technology provides shed free extensions that lie flat on the scalp for a better fit.
Neina, a customer from New York, had this to say about her ProLine™ Relaxed Straight extensions: "This product is of superior quality. I love how it flows and moves so natural. It is very easy to curl and now maintains the curls for at least a day and instead of being straight after the curls have fallen it gets a nice loose wave. It handles humidity and damp weather quite admirably. I am head over heels for this hair. I would most definitely recommend it."
Another customer, Marquita, after months of use, said of her ProLine™ HeavenlyLengths extensions: "It is an amazing product. I fall in love with the hair every day. The texture is amazing, even when it needed to be washed, it looked and felt great. I really like the wave. Sometimes when twisted, it gives of the appearance of lose curls. The hair is very versatile and very easy to maintain."
Customers of Remy Capillus can buy hair extensions online and from distributors throughout the country as well as find their hair in some of the best extension lines throughout the world. The company ships their products and private labels for customers throughout the world including cities in the U.S. such as Atlanta, Boston, Philadelphia and Washington, DC. The focus of all Remy Capillus extensions is to offer the highest level of quality human hair extensions available on the market today.
For more information, please visit http://www.remycapillus.com/.