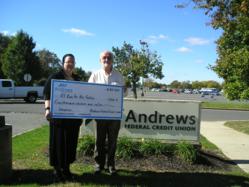 Suitland, MD (PRWEB) October 25, 2012
Andrews Federal Credit Union recently served as a Platinum Sponsor for the 4th Annual New Jersey Run for the Fallen. The event which spans the course of 172 miles over three days, is run to memorialize the lives of soldiers killed in Operation Iraqi Freedom, Enduring Freedom and New Dawn.
"We appreciate Andrews Federal Credit Union's generous and consistent support of this run. They were the first to sponsor the event four years ago and continue to be an avid supporter", said Michael Simpson, President, New Jersey Run for the Fallen.
The New Jersey Run for the Fallen is an organization of runners and support crew whose mission is clear and simple: To run one mile for every New Jersey service member killed in Operation Iraqi Freedom, Enduring Freedom and New Dawn. Each mile of sweat and pain and each flag saluted, is to pay homage to one service member's life and their family.
About Andrews Federal Credit Union
Andrews Federal Credit Union was founded in 1948 to serve the needs of military and civilian personnel by providing a vast array of financial products and services. With over $900 million in assets, Andrews Federal has grown to serve more than 98,500 members in the District of Columbia, Joint Base Andrews (MD), Joint Base McGuire-Dix-Lakehurst (NJ), and military installations in central Germany, Belgium, and the Netherlands. In addition, the Credit Union serves as a financial partner with many select employee groups in Maryland, the District of Columbia and New Jersey. To learn more about Andrews Federal Credit Union community involvement, products, and services, please visit http://www.andrewsfcu.org.