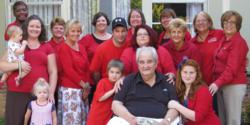 We would like to thank each of you who supported this fundraising effort with your generous contributions.
(PRWEB) October 24, 2012
It was September 29th. Rain was in the forecast and clouds were looming but that didn't stop 27 members of the Settlers Life Team from donning their walking shoes and joining hundreds of others at Cumberland Square Park, in Bristol, VA for the annual Step Out Walk to Stop Diabetes.
The Settlers Life Tent was decorated to reflect the enthusiasm and purpose of the team. A company banner and poster helped to tell their story but more importantly, the story of one man, Agent Harrell Hayton:
"Hi, my name is Harrell. I am a father and a grandfather. I have enjoyed a successful career as a final expense life insurance agent for over 41 years (with Huff Cook Mutual Burial Association and Settlers Life Insurance Company). I am a diabetic. Unfortunately, I didn't take care of myself the way I should. I checked my sugar when I thought about it -- when it was convenient. I ate pretty much what I wanted and my weight was out of control. I developed a sore on my left foot in the spring and put off having it checked. In July my left leg had to be amputated below my knee. I haven't been home since July 4th. Today's world is very different for me.
I continue my fight against infection and engage in physical therapy every day to prepare myself for a new lifestyle and eventual adjustment to prosthesis. I am a Christian and draw daily strength from my faith, my family and my friends.
The 2012 Tri-Cities Step Out Walk to Stop Diabetes was an opportunity for me to tell my story and encourage others who are fighting the diabetes battle. I could not participate as a "walker" but I hope my story and your generous donations will help fund education and research to support the American Diabetes Association in their ongoing fight to stop diabetes. Just maybe, I have helped make a difference for you or someone you love."
The Settlers Life Team exceeded their 2012 goal by raising $4,798 for the Step Out Walk to Stop Diabetes.
On behalf of Harrell, the Settlers Life Team and the American Diabetes Association, we would like to thank each of you who supported this fundraising effort with your generous contributions.
Settlers Life Insurance Company is a wholly owned subsidiary of the NGL Insurance Group, with its primary administrative office in Bristol, Virginia. Settlers Life has more than 2,800 independent agents appointed in thirty-six states. Since 2007, Settlers Life has maintained an A. M. Best financial strength rating of "A minus" (Excellent), the fourth highest of sixteen such ratings. A.M. Best states that an "A minus" rating "is assigned to companies which have, in our opinion, an excellent ability to meet their ongoing obligations to policyholders." A.M. Best is the oldest and most widely recognized rating agency dedicated to the insurance industry.