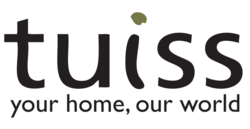 We wanted to develop a product that allowed light in but provided more privacy than a standard blind
Nottingham (PRWEB UK) 25 October 2012
A new range of gravity-defying blinds are causing a storm in homes around the UK, as an online blinds specialist based in Nottingham has developed a range of roller blinds that work from the bottom- up.
Blind company Tuiss, http://www.tuiss.co.uk, developed their range of Bottom Up roller blinds to help maximise privacy in the home without limiting the amount of natural light able to enter a room.
The blinds work like a standard roller blind in reverse and move from the bottom of a window upwards, allowing light to enter from the top of a window, whilst shielding the bottom from any prying eyes to add an extra element of privacy.
Tuiss have developed the blinds in a range of different fabrics, including 'blackout' options, which are suitable for all rooms in a home or office; particularly bathrooms where extra privacy is often desired. All blinds are made to measure, with prices starting from £49.95 for a blind measuring 40cm x 40cm.
Bottom Up roller blinds have been particularly popular in city-centre homes and offices, as well as buildings that are overlooked or on street-level.
Mark Bramley of Tuiss had the following to say about the new product:
"We wanted to develop a product that allowed light in but provided more privacy than a standard blind, and still fit stylishly within a home or office. So far, our Bottom Up blinds have been flying off the shelves, and it seems that people are really keen to find a privacy solution that doesn't mean you have to sit in darkness all day! We fully expect bottom up blinds to become increasingly popular around the UK, and may even turn the blinds world on its head."