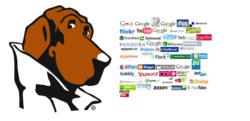 Ft. Lauderdale, FL (PRWEB) October 29, 2012
When a parent first discovers that their children are acting in an irresponsible way online, or doing inappropriate things online, they often don't know how to handle the situation. Chances are, other parents have had to deal with similar parenting issues, and are ready to offer advice.
McGruff SafeGuard now provides several community features for parents to help one another in navigating the complex world of raising kids online.
McGruff SafeGuard intelligently monitors and records what teens post, chat or message about on Facebook, Twitter and many other social networks. Once installed on their teen's PC, McGruff SafeGuard notifies the parent if it detects potential danger via text message or email.
McGruff SafeGuard is built on the idea of showing a parent not just where a teen goes, but what the teen does when she gets there and who she does it with. It records all of the teen's online activity. It records a teen's chat on Facebook, Google Talk, Skype, and others and a teen's email on Gmail, Yahoo, Microsoft Live, and others. Parents visit the secure parents-only website to see what their child was doing, and to restrict what the child can do.
Parenting features now include a dynamically updated KidSaurus – that automatically translates kid's chat-lingo (and emoticons) into phrases that a mom or dad can understand. And when kids start using new chat-lingo acronyms, parents can add these acronyms to the KidSaurus, and in turn, help other parents.
If a mom sees that her child visited a unusual website, and she knows nothing about that website, she can click the EXPLAIN button. Parents using McGruff SafeGuard over the past few years have been providing parental-friendly explanations of websites that children often visit, and downloaded apps that children use.
If a dad wants to get a second opinion about how to handle his child's behavior, he can click the TRUSTED FRIEND button to send a copy of his child's chat or email to a close relative or parenting expert.
"We've been helping tens of thousands of parents keep their children safe online for the past five years, and suggestions from parents have helped us build a great product." said Marty Schultz, director of McGruff SafeGuard. "Our parent community features make a parent's job a little easier".
McGruff SafeGuard provides these parental control features:
Records:
o Facebook and dozens of other social networks
o Chat/IM
o Email Sent & Received
o Messages / Comments / Photo Posts
o Usernames & Passwords
o Searching & Googling
o Keystrokes Typed
o Programs Used
o Translates Chat Acronyms
Controls:
o Blocks Porn & Other Inappropriate websites
o PC Use & Time Limits
Parents can also see the websites their teens visited, and lets parents control the types of websites they can visit. They can block or allow content by topic, age or by creating a customized list of sites to block. Over 100 topics can be blocked including pornography, dating, violence, sex education, alcohol, drugs, gambling and many others.
McGruff SafeGuard is available for download at GoMcgruff.com as a 30-day free trial. Subscriptions cost. Once the free trial is over, parents can continue monitoring a single PC for about $7/month or all the PCs in their home for about $11/month.
About McGruff SafeGuard
McGruff SafeGuard provides parental control software for Windows PC, and a Child Safe Browser for the iPhone, iPad and iPod/Touch. McGruff SafeGuard is a licensee of the National Crime Prevention Council (NCPC). Our offices are located at 2941 West Cypress Creek Road, 2nd Floor, Fort Lauderdale, Florida 33309. To reach us please call (954) 607-7559, send email to info(at)gomcgruff(dot)com or visit us online at http://gomcgruff.com.
About NCPC and McGruff the Crime Dog®
The National Crime Prevention Council (NCPC) is a private, nonprofit organization whose primary mission is to be the nation's leader in helping people keep themselves, their families, and their communities safe from crime. NCPC manages public service advertising under the National Citizens' Crime Prevention Campaign — symbolized by McGruff the Crime Dog® and his "Take A Bite Out Of Crime®" slogan — and acts as secretariat for the Crime Prevention Coalition of America, more than 400 national, federal, state, and local organizations representing thousands of constituents who are committed to preventing crime. NCPC is funded through a variety of government agencies, corporate and private foundations, and donations from private individuals.