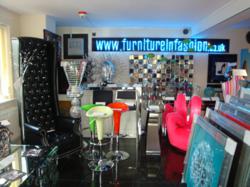 FurnitureInFashion celebrates its first Anniversary at New 3.5 Acres Premises
(PRWEB UK) 30 October 2012
FurnitureInFashion is pleased to announce their first anniversary at new 3.5 acres showroom in Bolton. The company is celebrating the inception of its showroom spread at 3.5 acres of land which was established a year ago. FurnitureInFashion which was first launched years ago in 2008, was able to move to Bolton an year ago due to successful establishment of business as the company is now one of the leading furniture suppliers in the UK. FurnitureInFashion is celebrating its steady growth and loyal client base that it has achieved since 2008.
The owner and Managing Director of FurnitureInFashion Asad Shamim said, "We are very excited to celebrate our first anniversary of our new showroom in the new 3.5 premises of Bolton. We are glad to share our experience with our new and loyal customers. We are here because of our clients and a very hard working team. I invite everyone to come out and visit our showroom for special discounts and other budget offerings we have at our showroom."
FurnitureInFashion has come a long way to become one of the leading online suppliers in the UK. FurnitureInFashion carries an array of quality, contemporary and durable furniture for bedroom, living room, dining room, kitchen, bathroom, office and hallway. The company also offers lighting fixtures and other home accessories.
Mr. Shamim said, "The reason for our success and becoming one of the biggest and highest ranking online furniture retail store is that since launching we have been innovative and the driving force behind our innovation is definitely our clients and customers. We have keenly listened and followed the requests made by our customers and clients. Our designers and manufacturing team work hard to meet the needs of customers and clients because FurnitureInFashion is really about what our clients want and need, after all."
The showroom of FurnitureInFashion in Bolton offers interactive furniture buying experience as it has developed separate sections for bedroom, living room, dining room and other rooms to present the real home ambience. There are sales representatives in every section to guide the customers from one section to another. These representatives also provide complete information regarding the several products to customers. In addition, FurnitureInFashion also maintains 90% stock all the time which makes it easier for customers to buy their desired products at the spot.
Mr. Shamim said, "At this great anniversary, FurnitureInFashion is entertaining its clients and customers with enormous discounts and sales. You can now avail the discounts either by ordering online or visiting our showroom. We are offering an extra discount of 10% to our customers who will appear at our warehouse. We are launching new product lines as well to benefit our customers in the upcoming festivity of Christmas." He also added, "We provide our customers with a large selection of quality products that are unique and have special appeal due to their contemporary and elegant designs. We aim at exceeding our customers' expectations in every area."
FurnitureInFashion's core values include doing the right thing, being relationship driven and staying focused on excellence. One of the keys for the success of FurnitureInFashion is the comprehensive safety program in which the company is continuously training employees, doing job site analysis and conducting certification to evaluate the overall performance of the company. Mr. Shamim thanked the customers and his team for making FurnitureInFashion what it is today.
About FurnitureInFashion
FurnitureInFashion is a UK based online retail business. It supplies furniture items from its German based warehouse and has a showroom in Bolton, UK. The company provides everything from chest of drawers, office chairs and dining chairs to bedroom, bar stools and computer tables. FurnitureInFashion offers excellent free delivery within UK and has a fantastic customer service as well. For further information and details about the sale, visit http://www.furnitureinfashion.net