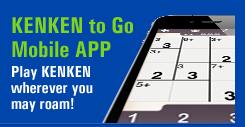 I would really love KenKen on my iPhone,iPad, or iPod touch. I play it on my computer almost every day. It's a very addicting game that keeps your brain working.
Pleasantville, New York (PRWEB) October 31, 2012
The new KenKen iPhone/iPad app is finally here. This great application is now free. Get the app now in the Apple store! It now has advanced note-taking features, options to add as many puzzles as one could want, Zoom, bonus puzzles that can be earned, and much more.
Players will notice as they progress through KenKen, logic, problem solving and thinking skills improve. Learn how to play in 2 minutes here, with NY Times Puzzle editor Will Shortz
http://www.kenken.com/misc/videos#V1
Do you have what it takes? Can you KenKen? Remember KenKen is listening to what the players have to say and will continue to update the app with new features that are wanted. Enjoy! Remember to get our new and improved free app!
About KenKen
KenKen® logic puzzles were first invented in Japan by Tetsuya Miyamoto, promoted as "Kashikoku Naru Puzzle" or the "Makes You Smarter" puzzle, and brought to the rest of world through Nextoy, LLC. With the main goal to improve students' cognitive abilities in mind, he developed a brain stimulating exercise that would be understandable, fun and challenging for students of all levels. Today, Mr. Miyomoto's classroom vision seems to have become a reality.