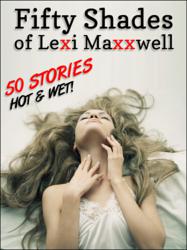 "42 Filthy Stories," peaked at number six on the free erotica titles on its second day of release.
Las Vegas, NV (PRWEB) October 25, 2012
Lexi Maxxwell has released a brand-new bundle of her trademark, reader adored "smut for smart people," to piggyback off the success of her previous collection, "Lexi 50 Shades of Lexi Maxxwell." The newest bundle, "42 Filthy Stories," gathers 42 short stories together, for the bargain price of $9.99.
Ms. Maxxwell released her previous collection in late September, slightly timid to do so and unsure of whether it was the right thing to do. Maxxwell's normal publishing schedule is to release a new title, usually a short story, each week. Though the author would love to work with longer formats, her eager readers are always wanting something new, and are actively looking each Tuesday, her traditional publishing date.
A large bundle seemed to be the best way for her to greet new readers, who haven't been eagerly gobbling her dirty copy. After publishing each week and all year long, sometimes with multiple stories, Maxxwell realized she had more than enough to bundle her first book.
"50 Shades of Lexi Maxxwell" was a smash hit. After just five weeks on the market, her first story bundle has garnered 55 reviews, 49 of them five-star, making "50 Shades of Lexi Maxxwell" the 15th highest reviewed erotica book on Amazon.
"I still pinch myself," Maxxwell said. "Really, for a girl who only started writing fiction this year, after many, many years of writing mind-numbing copy, I feel more motivated than ever to leave the world of marketing and dive deeper into the world of smut. It's almost embarrassing how much I enjoy it there!"
Now that "42 Filthy Stories" and "50 shades of Lexi Maxxwell" are both out and gathering strong reviews, Ms. Maxxwell has decided to take a breather so she can finish her debut novel, scheduled for late November.
"It's called, 'Bitten,' and it's a paranormal vampire romance, with tons of dirty smut, of course!" Maxwell laughed.
"42 Filthy Stories," peaked at #6 on the free erotica titles on its second day of release, and has since moved from Kindle Select's free option. When asked why Maxxwell made it free on its first days, she said, "Right now I make my money writing copy. I want to give as much value to my early readers as I possibly can. I'm not interested in making money with Lexi so much as in building her name, at least for now. Once I have that name established, and am confident I can leave my copyrighting job for good, I'll do Lexi full time. Then the rules can change. Right now, I'm just having fun!"
So are her fans.
"50 shades of Lexi Maxxwell" is on sale now, along with her newest release, "42 Filthy Stories."