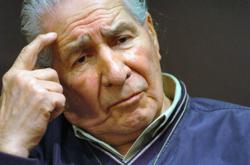 "'You see that tree?' he said..."'That's who you are.'"
-- from the video "We Are Part of the Earth"
Atlanta, Georgia (PRWEB) October 25, 2012
Sacred Fire Foundation is pleased to announce the recipient of the first Wisdom Fellowship Award. These awards honor the work of indigenous and traditional elders from around the world who show outstanding lifetime achievement in preserving, protecting and revitalizing the spiritual and cultural heritage of their People. We recognize those leaders who defend this knowledge and offer bridges of understanding to people from all nations.
Chief Oren Lyons, Faithkeeper of the Turtle Clan, member of the Onondoga Nation Council of Chiefs of the Six Nations of the Iroquois Confederacy (the Haudenosaunee) receives the award November 10, 2012, at Ancient Wisdom Rising in Norcross, GA.
A recognized advocate for indigenous rights, Chief Lyons was active in the Red Power movement of the '60s. "At first, I wanted to defend the Iroquois. Then my sights broadened to embrace other Indians. Then I saw this had to include defending indigenous peoples all over the world," he says in Visionaries: The 20th Century's 100 Most Inspirational Leaders. During almost 50 years of activism, he has been an outspoken advocate for world peace and the Earth's environmental problems.
About Sacred Fire Foundation:
Sacred Fire Foundation seeks to restore balance by igniting a heart-centered way to relate to each other, our communities, and our world. Through its magazine Sacred Fire and annual Ancient Wisdom Rising retreats, the foundation demonstrates the relevance of ancestral traditions and spiritual approaches in today's world. Charitable activities include financial partnerships, awards and grants to organizations that preserve and sustain traditional indigenous ways of life. For more information, please visit http://www.sacredfirefoundation.org.
About Ancient Wisdom Rising:
Ancient Wisdom Rising, a three-day retreat sponsored by Sacred Fire
Foundation, brings spiritual leaders from around the world to share
traditional wisdom with retreat participant. This year's spiritual leaders
include:
Sobonfu Some', of the Dagara Peoples in West Africa, was guided from an
early age to prepare for her life's work as a ritualist, as divined by the
elders of her village before her birth.
Larry Merculieff, Aleut Peoples of Alaska, is of the last generation of
Aleuts of the Alaskan Pribilof Islands to be fully raised in the traditional
way.
Marcy Vaughn, Bon Tradition of Tibet, is Director of Practice and Study for
Ligmincha Institute and is the editor of Tenzin Wangyal's books Tibetan
Sound Healing and Awakening the Sacred Body.
Ustad Ghulam Farid Nizami, a Sufi from Pakistan, is a 17th generation
musician, a descendant of Mian Tan Sen, court musician of the 16th century
Emperor Akbar the Great.
Grandmother Walking Thunder, Dine' Medicine People (Navajo) is known as a
powerful healer, an accomplished sand painter, and an inspirational teacher
who will model her immense connection to Mother Earth.
Two elders from tribes whose ancestors have lived on the lands in and around
Atlanta for thousands of years will share their stories, language and deep
connection with their traditional homelands:
Sam Proctor of the Muscogee (Creek) Nation, is a tribal elder,
traditionalist and spiritual leader, has a mission to help educate as many
people as he can to further the ways of his ancestors for future
generations.
Jerry Wolfe, Cherokee tribal elder, wisdom keeper and master of Cherokee
stories, is known for keeping the traditions of his people, and passionate
about keeping Tsalagi, the Cherokee language, alive.
Ancient Wisdom Rising 2012, November 9-11, will be held at the Lodge at
Simpsonwood, a retreat center surrounded by 227 acres of woodlands along the
Chattahoochee River in Norcross, near Atlanta, GA. Registration fees include
all meals and events. For more information and to register online visit
http://www.ancientwisdomrising.com.