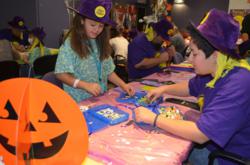 Loma Linda, Calif. (PRWEB) October 24, 2012
Kids at Loma Linda University Children's Hospital celebrated the arrival of a new season on Tuesday, Oct. 23, with costumes, face painting, arts, and crafts at the annual "Spirit of Children Fall Party."
The party was hosted by Spirit stores, a national chain of party stores. Store employees from throughout Southern California were on hand at Children's Hospital on Tuesday to decorate the hospital's Stater Bros. Activity Center, help the kids pick costumes, and assist the children with arts and crafts at a number of activity stations. The volunteers later helped pick out costumes for kids in the units who could not come down for the party.
Spirit also conducts point-of-sale promotions at stores to collect donations for Children's Hospital's Child Life Department. Last year, the Child Life program received nearly $53,000 from the promotion.
# # #
About Loma Linda University Children's Hospital - LLUCH
The Children's Hospital is the only dedicated children's hospital in the vast geographic region of the San Bernardino, Riverside, Inyo and Mono counties. With 277 beds dedicated just for kids, one of the largest Neonatal Intensive Care Units (NICU) in the country, and more than 100,000 children who come each year, LLUCH is a major pediatric teaching facility for Loma Linda University and is part of the Loma Linda University health care system. Known worldwide as the pioneer of neonatal heart transplantation, LLUCH has performed more infant heart transplants than any other center of its kind.