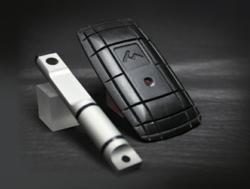 The only univesral tripod mount and kickstand that's always there when you need it.
San Francisco, CA (PRWEB) October 25, 2012
Mobile media users will find life a little easier and more comfortable with the new Mosy Mount & KiqStiq. Smartphone photographers (aka "iphoneographers"), videographers, business travelers, or those who use tablet devices for surfing the web, video-chatting, and watching videos, will find Art4Media's KiqStiq to be a compact and effortless solution that can make these activities more enjoyable.
The KiqStiq is designed to work with the Mosy Mount – a thin rubber decal that features a standard ¼-20 fitting that's compatible with any standard tripod. The Mosy Mount makes it easy to use any tripod to steady the smartphone's camera for shake-free video and crisper HDR photography. When paired with the KiqStiq, the Mosy Mount lets users keep their hands free while still being engaged with their devices.
Using a pocket tripod with the Mosy Mount makes it easy to ergonomically position your device for typing, video chatting, watching videos or any other activity that could quickly become uncomfortable. While the KiqStiq works great as a kickstand, it can also be reconfigured for use as a right-angle adapter for larger tripods commonly found in professional scenarios.
Only three-inches long, the Kiqstiq is small and light enough to keep on a keychain or bookbag. The Mosy Mount'd grid design can be trimmed with a pair of scissors to fit smaller devices that may not offer a way to mount the device on to a tripod.
The Mosy Mount uses a strong but removable adhesive and because it uses a standard 1/4-20 thread, it will work with any standard or pocket tripod. It is durable and can be reapplied multiple times. The Kiqstiq is equally durable, as it's machined from a solid bar of hardened aluminum.
The original Mosy Mount enjoyed worldwide acclaim from hobbyist and professional smart phone photographers including photojournalists at the Wall Street Journal. The new model is even thinner and lighter.
Art4Media is offering pre-orders for a set containing the new Mosy Mount and a KiqStiq, via "pledges," at Kickstarter.com, and priced considerably lower than the expected retail pice. However, they will only go into production if Art4Media reaches its funding goal of $30,000 by November 11, 2012. Potential investors can pledge as little as $2 to help bring this product to the public, while pledges ranging from $30 to $5000 offer a set of both items with different color KiqStiqs, some of which will only be offered through this campaign.
To learn more about Art4Media's Kickstarter campaign visit their Kickstarter page at http://www.kickstarter.com/projects/2120207031/the-new-mosy-mount-and-kiqstiq?ref=live.
About Art4Media, LLC
San Francisco-based start-up, Art4Media, LLC is a small creative services studio, offering photo-image retouching, 2D & 3D illustrations, conceptual renderings and pre-press file preparation. Multimedia services are also available through a network of talented associates.  Based in San Francisco, Art4Media also designs and develops Mosy Mount products.  For more information please visit http://www.art4media.com.
###