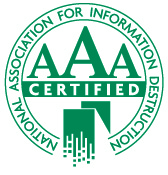 It's very exciting but also challenging.
Phoenix, AZ (PRWEB) October 25, 2012
NAID Chief Compliance Officer Holly Vandervort left for Hong Kong last week to train a highly accredited security professional on NAID AAA Certification audits. This physical and IT security professional will eventually serve the growing number of certified locations in Asia. He will be responsible for conducting announced and unannounced audits in the region.
While in Hong Kong, Vandervort will also meet with a number of NAID member-companies who have expressed interest in attaining NAID Certification.
"It's very exciting but also challenging," said Vandervort. "Considering the number of locations already in the region, the number of applications currently in the pipeline and the number of serious inquiries we're receiving, establishing an NAID auditor in the region was critical."
The Hong Kong auditor will join the 12 accredited Certified Protection Professionals (CPP) in North America, one in Europe and one in Australia to conduct NAID Certification audits around the world. The candidate, who will not be named until he completes his training, holds both a CPP accreditation from ASIS International and a Certified Information Systems Security Professional (CISSP) accreditation through ISC2.
"Increasing data protection requirements have led to a proliferation of secure destruction services in emerging Asian markets," said NAID CEO Robert Johnson. "As the only global, third-party verification of the security and regulatory compliance of information destruction services, NAID Certification is becoming an increasingly prized accreditation in the region."
About NAID and NAID AAA Certification Program: NAID is a non-profit trade association of the secure destruction industry, currently representing over 1,900 member locations globally. NAID's mission is to promote the proper destruction of discarded information and to encourage the outsourcing of destruction needs to qualified contractors.
The NAID AAA Certification Program is offered on a voluntary basis to all NAID member companies providing information destruction services. Through the program, NAID members may seek certification for mobile and/or plant-based operations in paper or printed media, micro media, computer hard drive destruction, and/or computer hard drive sanitization. The certification program establishes standards for a secure destruction process, including such areas as operational security, employee hiring and screening, the destruction process, responsible disposal and insurance. NAID members who are seeking certification are required to submit the Certification Application and associated fees. NAID certified members are subject to announced and unannounced audits to validate certification.