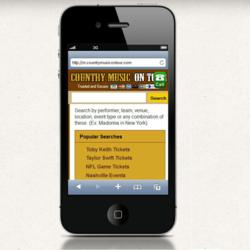 CountryMusicOnTour.com's mobile site was built to serve fans when they are most motivated to make a ticket purchase, such as at a live event or out with their friends.
Westville, OK (PRWEB) October 25, 2012
The CountryMusicOnTour.com mobile site was designed for convenience and ease-of-use, allowing fans to quickly search for the event tickets they are interested in while out with friends and in the moment when they are most motivated to purchase. The interface gives several basic search criteria to help make the transaction as quick and seamless as possible, including
-Category (e.g. - Concerts in Nashville)
-Venue (e.g. - Bridgestone Arena)
-Performer (e.g. - Jason Aldean, Jason Aldean in Dallas)
-Team (e.g. - Tennessee Titans)
-Production (e.g. - Rock of Ages)
-Date (e.g. - Taylor Swift July)
About CountryMusicOnTour.com:
CountryMusicOnTour.com is a dedicated country concert ticket outlet, and a sister site to CountryMusicNewsBlog.com and DHCountryMusic.com, all part of the DH Network. Together these three sites cover all aspects of the country music industry from the DIY and underground artists who are working their way towards notoriety to the household names that have found success in the music industry. CountryMusicOnTour.com is the bread and butter that allows our journalism team to seek out and showcase artists from a non-biased perspective, without pressure from labels or major advertisers and media companies.
You can find out more about our network through our social media profiles or by visiting the sites themselves:
countrymusicontour.com
countrymusicnewsblog.com
twitter.com/CountryMusicNB
facebook.com/mycountrymusic