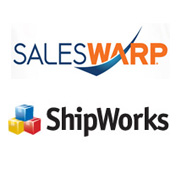 "Integrating with SalesWarp provides tremendous value to our clients as it offers a complete E-commerce solution for our clients," says Richard Perry, Vice President of Business Development for Shipworks.
Baltimore, MD (PRWEB) October 29, 2012
SALESWARP, a unique E-commerce Storefront Management System that helps retailers increase sales while reducing operating costs, and ShipWorks, an industry-leading provider of E-commerce shipping solutions, announced they have formed a strategic partnership. The partnership will allow SalesWarp to integrate ShipWorks' innovative shipping software into its E-commerce platforms providing retailers with a seamless order and fulfillment process.
Servicing shopping carts for E-commerce giants eBay and PayPal, ShipWorks integrates its state-of-the-art shipping software with online shopping carts to help retailers simplify and accelerate shipping operations. The software provides direct support for all major shipping carriers including DHL Global Mail, FedEx, UPS, and USPS.
"Integrating ShipWorks with SalesWarp provides tremendous value to our clients," says Richard Perry, Vice President of Business Development for Shipworks. "It offers a complete E-commerce platform that can scale with our clients as their businesses grow."
SalesWarp, a commercial open source E-commerce solution, helps retailers maximize resources and deliver ROI by providing a scalable platform that improves time-to-market, streamlines operations and provides market expansion opportunities. Operationally, SalesWarp enables retailers to manage and integrate all of their E-commerce processes into a single automated platform that save retailers valuable time and resources. SalesWarp also provides tools to manage product information including pricing and marketing strategies, images, categories and SEO.
"Fulfilling orders and managing shipping is a key task for online retailers," stated David Potts, CEO & Founder of SalesWarp. "By utilizing Shipworks as a shipping solution for Saleswarp, our clients can easily process all their orders from start to finish and use the advanced shipping options provided by Shipworks."
About SalesWarp (http://www.SalesWarp.com)
SALESWARP, developed by 6th Street Commerce, is a Storefront Management System that helps E-commerce retailers improve how they manage products, orders and suppliers to significantly increase sales, improve quality and reduce costs.
About ShipWorks (http://www.shipworks.com)
ShipWorks® is a multi-carrier shipping solution that helps online sellers ship more in less time by eliminating manual processes and automating post-sale tasks. ShipWorks integrates with over 40 selling platforms including Amazon, eBay, Magento, PayPal, and Yahoo! Stores, and provides a single interface for processing orders that originate from separate marketplaces. With its integrated support of FedEx, UPS, USPS, Endicia, Express1, and Stamps.com, ShipWorks can batch process shipping labels, automatically email customers, post back tracking information to each sales channel, and more. Since 2002, ShipWorks has played a critical role in helping tens of thousands of companies streamline their daily operations and grow their businesses. ShipWorks has delivered creative, yet detailed solutions that have addressed growing eCommerce challenges by putting the customer first and genuinely listening to their needs. Your first 30-days are on us at shipworks.com.