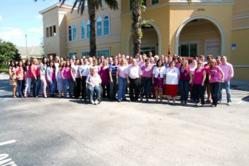 (PRWEB) October 25, 2012
More than 200 employees at the Orlando-based technology company SoftRock recently wore pink in support of Breast Cancer Awareness Month.
The company is making a donation to Susan G. Komen for the Cure for each employee who wore pink to work on the company's dedicated pink day. Employees were very creative, wearing pink in some fun and interesting ways, everything from pink barrettes to a pink jumpsuit.
Kelly Romero, SoftRock's chief operating officer, has a very personal connection to the issue, as do other employees. Kelly's mother had breast cancer and Kelly was a big part of rallying the SoftRock team to support the cause.
About SoftRock
SoftRock Orlando, Inc., founded in 2006, is a technology and media company that builds and operates advertising-based websites, social and mobile applications. SoftRock has grown by combining cutting-edge technology with exceptional customer service and an employee-centric environment. SoftRock sponsors multiple community events each year and has several company sports teams. SoftRock is the place where software rocks. Additional information can be found on LinkedIn, Google+, and Facebook.
###
For additional information, interview and image requests, contact Axia Public Relations at 866-999-2942, ext. 700.