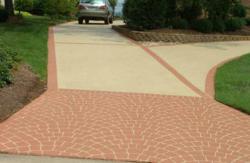 A pattern stamped and colored driveway can add immense beauty to your home.
Washington DC (PRWEB) October 31, 2012
There are many options in the world of driveway construction. They can be paved with asphalt, bricks or cobbles; but, more commonly, driveways are paved with simple concrete. Sundek of Washington has taken the simple out of that equation with their innovative decorative concrete driveway designs and installations that have been increasing in popularity all around the Washington DC area.
One of the most common requests Sundek of Washington receives is to create the look of brick, tile, natural stone or other expensive paving materials on driveways. They do this by utilizing stamped concrete. By stamping a concrete surface with specially designed patterns and tools, it's possible to mimic the appearance of a variety of paving materials quickly and affordably. Sundek of Washington's custom driveways are also colored and textured to create a truly unique look.
Existing driveways can easily be customized using this process by first installing a concrete overlay. Sundek of Washington lays a thin layer of concrete over an existing driveway, then transforms it into a custom designed, eye catching surface using their stamping and coloring techniques.
Sundek of Washington's considerable amount of experience in the industry creating a wide variety of custom decorative concrete applications has made them a top contractor for Washington DC residents looking for trustworthiness and affordable quality.