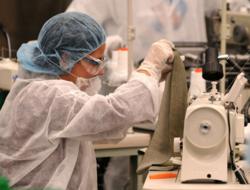 "We are excited to add production of The Emergency Bandage® to our portfolio as it increases our ability to employ citizens in Michigan who face employment barriers. " says Kandu CEO Tom Vreeman.
Holland, MI (PRWEB) October 29, 2012
It was 3 years in the making, and that explained the gratitude seen on the faces of principals and staff members of PerSys Medial (Houston, TX), Kandu Incorporated (Holland, MI) and First Care Products (Israel) during the ribbon cutting event held today celebrating the US manufacture of The Emergency Bandage® at Kandu Incorporated.
PerSys Medical is a staple in the combat medicine market and has sold The Emergency Bandage® invented and manufactured by First Care Products in Israel to the US military since 1998. Persys Medical also provides lifesaving devices to EMS, search & rescue, law enforcement and more along with basic medical training. Branches in Israel and the UK manufacture and sell products as well.
The lifesaving bandage was the brain child of former IDF medic, New York native, and First Care Products founder Bernard Bar-Natan. After years of development in the Israeli Technology Incubator system the device was introduced to the US military by PerSys Medical CEO Ofer Molad in 1998. By the beginning of Operation Iraqi Freedom and Operation Enduring Freedom, The Emergency Bandage® was specified by the US Army to be placed in every IFAK (individual first aid kit). Today, millions of Emergency Bandages® in 12 different styles are purchased worldwide in support of saving lives on the battlefield.
The Emergency Bandage® is noted for the following features:

An All-In-One Pressure Dressing That Stops Bleeding of Severe Wounds
After years of production in Tuba Zangariyye in the north district of Israel, bandages for the US market will now be produced in the close knit town of Holland, Michigan by Kandu which is headed by CEO Tom Vreeman.
Approximately 200 guests were on hand to help celebrate this milestone. Ofer Molad, CEO of PerSys Medical, was pleased to say, "Manufacturing of the bandages at Kandu will be good for people here, militaries around the world and for all people who need them." "We are excited to add production of The Emergency Bandage® to our portfolio as it increases our ability to employ citizens in Michigan who face employment barriers. " says Kandu CEO Tom Vreeman.
Among the well-wishers were Texas Governor Rick Perry who provided a signed congratulatory proclamation (read during the ceremony), event speakers NISH CEO Robert Chamberlain, Michigan Congressman and Bill Huizenga (2nd Dist, MI), Michigan Department of Community Health Director Dave Haveman, and a host of clients, staff, volunteers, and financial supporters.
The most important aspect of the day was the spotlight on Kandu's employees who, despite barriers to employment, manufacture the products in Kandu's portfolio. All smiles and eager to meet guests, Kandu's employees gave the day its true meaning. One woman in particular, Nepal native Saraswati Baral, was instrumental in educating others on the new sewing machines used to make The Emergency Bandage®. Ms. Baral's efforts were recognized as she cut the ceremonial ribbon during the event.
Kandu, located in Holland, MI is a non-profit organization that provides workforce development and job opportunities for people with barriers to employment. Since 1953, Kandu has taught employment and life skills that transform someone labeled "unemployable" into someone who does excellent work and earns a wage. Kandu provides job-related services and employment to over 1,200 people each year.
PerSys Medical supplies militaries, law enforcement agencies, fire departments, hospitals, and search and rescue facilities with life-saving medical innovations. The products that PerSys brings into the medical market have become the standard worldwide. PerSys also offers a Training Center onsite at their Houston, TX location for American Heart Association sanctioned classes and specialized tactical first aid courses.
##