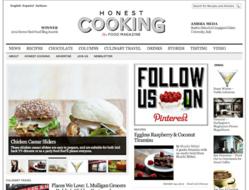 New York, NY (PRWEB) October 24, 2012
In an article in the November issue of Vanity Fair, the magazine names the four best online food magazines that all gourmands should be reading. One of these is Honest Cooking, a magazine that started merely 1.5 years ago by food writer Kalle Bergman, but has already attracted over 300 contributing writers and bloggers from across the globe. Honest Cooking also recently received the Saveur Best Food Blog Award 2012.
"We're happy and proud to be recognized by such an iconic media as Vanity Fair, and it is yet another proof that Honest Cooking is doing something right," says Editor and founder Kalle Bergman in a comment. "We're naturally also happy to be in such great company. Food52, TastingTable and Gastronomica (the three other websites honored) are all favorites of ours, so we couldn't ask for more."
Through Honest Cooking's extensive network of more than 300 contributing food writers, bloggers, chefs and photographers around the globe, the magazine aims to provide the most international culinary content on the web. - Since our contributors actually write from where they live, our content is curated by exactly the people you want access to as a traveling gastronomer. Foodies that cook, eat, drink and live a "real" life on location, rather than sending food journalists around the globe to find what is good, local and authentic, says Kalle Bergman.
Honest Cooking is based in New York city, with local language editions in Italy and Spain headed up by local editorial teams.