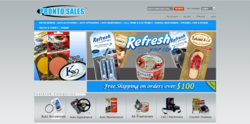 Los Angeles, CA (PRWEB) October 24, 2012
Pronto Sales, leading distributor of wholesale car wash supplies and accessories announces the launch of their redesigned online store. The new website currently includes an easy to navigate, complete catalog of products, an industry-specific blog and, for a limited time, free shipping on orders of $100 or more.
Twenty years of industry experience has built Pronto Sales a strong reputation with a specialized product list that includes car air fresheners, floor mats, vending items, gifts, and novelties by world renowned brands such as Car Freshener, K29, Armor All, Ozium, and Impulse Merchandisers. The car wash supplier's optimized website now features these products on a user-friendly interface that is clear and easy to navigate. Each product category is organized on an accessible toolbar with specific pages and detailed descriptions for every item offered. Located to the left of each product are tables that give customers the option to shop with a certain filter, to have immediate access to their shopping cart and the ability to compare products.
Along with a high level of on-site usability, Pronto created a content rich blog for their customers that will act as an information tool, discussion forum and idea hub for the car accessory enthusiast. Visitors can now browse through posts about the auto industry and featured products and services to name a few.
As an added bonus, the car wash wholesaler is offering its customers free shipping on orders of $100 or more. Their multiple distribution locations and readily available customer service team creates a worry-free, expedite shipping process that takes only 2-3 days. With Pronto's already extremely low prices, getting a great deal on car wash accessories has never been so easy.
Hailing over two decades of experience, Pronto Sales has become an established business with priceless industry expertise. Their new website has already gained the attention of notable investors and promises to fast-track this company to success.
For More Information: http://prontosales.net