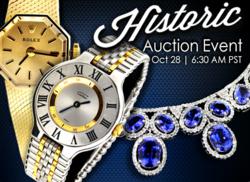 Tehachapi, CA (PRWEB) October 24, 2012
GovernmentAuction's October 28, 2012 auction of original artwork, precious gems and gold coins headline this weekend's auction event on the online auction site LiveAuctioneers.com. Collectors and bargain hunters alike can bid on over 1,300 items in this one day historic auction event with bidding starting at only $2 on most lots. Including in the auction are select pieces of antique gold coins, diamond necklaces and a rare art piece from Granville Redmond.
An auction highlight is a exceptional work of art by a famed California impressionist. The piece titled, "Sunny Stubblefield," by Granville Redmond is a oil on canvas landscape that features a slumbering ranch house surrounded by turquoise skies, old oak trees and blades of California sage grass. The artwork measures 9 1/2 x 12 1/2. The reverse label states Schussler Bros., Art Dealers, 285 Geary Street, San Francisco. Redmond (1871-1935) is known as one of the first Tonalist painters of California and holds the distinction of being one California's most notable impressionists painters. As a child, he was deaf after being struck with Scarlet Fever. He attended a school for the deaf where he was taught painting and eventually studied in both San Francisco and Paris. He is best known for landscapes featuring poppies, trees and mountains. " Usually paintings of this caliber are snatched up by a high end auction house such as Christie's. We are truly pleased to have acquired the Granville Redmond oil on canvas thru an California estate sale," stated chief auctioneer Paul Sabesky.
Offered for auction in the watch category is a Audemars Piguet Royal Oak Offshore Men's Watch. Audemars Piquet are known as the masters of precision in watch manufacturing. The watch is comprised of a black leather band, with a copper case enclosing a white face and black dials. Included with the multitude of luxury timepieces for auction is a 14kt Gold Ladies Rolex Watch. The piece contains a gold serpentine band with an octagonal gold case with a white face and gold numbering.
A featured high end jewelry piece is a stunning 26CT Diamond Necklace. This stunner is a 14KTwhite gold diamond eternity necklace measuring seventeen inches. The necklace is composed of a flexible ribbon of 59 round cut brilliant diamonds graduating in size and ending in a concealed clasp with twin safeties. Also included with the multitude of elegant jewelry pieces is a elegant statement piece, a 51.28CT Tanzanite and Diamond Necklace. The piece measures eighteen inches in length and is crafted of 14lt white gold with twenty-two oval cut natural Tanzanite's that are each surrounded by round cut diamonds with a total carat weight of 7.39CT, that are in addition to the 51 carats of the main gemstones. The total weight of the necklace is 60.30 gm.
In addition to the fine jewelry being presented, the auction house is also featuring a collection of gold coins. A unique coin offered is a 1883 $10 Liberty Gold Coin. Also known as the "Coronet", the coin was designed by sculptor Christian Gobrecht. The Coronet features Lady Liberty wearing her hair in a loose bun with a coronet on her head inscribed with the words "Liberty". The reverse bears a proud American Eagle with the words "United States of America," and motto "In God We Trust." The composition of the coin is 90% gold and 10% copper which accounts for its beautiful warm golden hue.
In the antique category a highlight item is a Antique 3 Piece Ansonia Clock. The Ansonia Clock Company was a major 19th century American clock manufacturer based in New York. The highly successful business crafted thousands of clocks in numerous styles.
Additional auction highlights include a 2001 Bentley Azure, 1901 $5 Indian Head Gold Coin, and more.
To view this auction please click the link below
Granville Redmond, Diamonds & Gold Coins - Sunday, Oct 28, 2012 | 6:30 AM Pacific
http://www.liveauctioneers.com/catalog/33206_historic-auction-government-assets-sale/page1
For additional information on any lot in the sale, call Debbie on 661-823-1543 or e-mail info(at)governmentauction(dot)com
About Government Auction
Government Auction was founded as a general resource to buying assets such as jewelry , gemstones, memorabilia, collectibles, art, prints, antiques, and vehicles throughout the United States. Most people don't realize there are hundreds of thousands of assets and valuables that are seized everyday and made available through various resources. Many of these confiscated assets are passed on to us for immediate liquidation. Some examples of how we acquire requisitioned objects are from bankruptcies, IRS, estate sales, trusts, and more.
Government Auction is the largest company of its kind and the only one in the United States that works closely with these agencies to acquire literally thousands of assets and confiscated goods, such as Ruby Gemstones, Sapphire Rings, and Men's President Rolex Watches, Mercedes Benz, and Gold Coins. In most cases we acquire these treasures at a fraction of their actual retail value. Once acquired these items are liquidated through the auction site. Clients are made up of just the everyday person who wants to buy a Diamond Bracelet, Pearl Strand Necklace, Sterling Silver Pink Sapphire Earrings, Oval Cut Emerald Gemstone Parcel, Remington Bronze Reissue at an unbeatable price.
All assets that we offer are normally at a 30% - 60% savings to the client. What this means is consumers are making a good investment immediately. By purchasing assets cheaply people can make a sizeable profit if they decide to resell it later on.
Government Auction is one of the most reputable jewelry and gem clearinghouse company in the U.S., with over 20 years of experience.