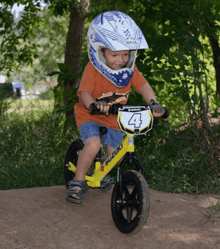 Rapid City, SD (PRWEB) October 25, 2012
Building on the worldwide success of the original STRIDER bike (more than 425,000 sold to date), the new Special Edition Suzuki STRIDER brings toddler bikes into a whole new arena — championship motorcycle racing! After hopping on the Suzuki-inspired STRIDER bike, any toddler will want to tear up the track like their heroes.
If a toddler can walk, the Suzuki STRIDER will get them cruising over dirt, grass, and pavement. The bike is mechanically the same as a standard STRIDER, but is customized with the official Suzuki stickers along with a #4 numberplate inspired by Suzuki's Ricky Carmichael.
The Suzuki STRIDER bike is a fun alternative for children aged 18 months to five years. It weighs just 6.7 pounds, is easy to control, and features an adjustable seat and handlebars to accommodate a growing child. Most importantly, the STRIDER bike teaches children balance and coordination and develops a glittering confidence not seen with tricycles or training wheel bikes.
"The new Suzuki STRIDER is a sweet-looking STRIDER," says Ryan McFarland, Founder of Strider. "We are always trying to design new STRIDERS with an eye towards our youngest riders and we know Suzuki is synonymous with excellence to for many young motocross and motorcycle racing fans. The Suzuki STRIDER gives aspiring riders the look and feel of a true racing champion!"
To learn more about the Suzuki STRIDER, visit http://www.StriderSports.com/Suzuki.

Note to Editors: Strider logos are available at http://www.StriderSports.com/media. High-resolution images of children riding STRIDER No-Pedal Balance Bikes can be requested by emailing: media(at)stridersports(dot)com
About Strider Sports International, Inc.
Strider Sports International, Inc. designs efficient, no-pedal balance bikes that encourage Toddlers to ride, learn, and explore the world on two wheels. Founded in Rapid City, South Dakota in January 2007, Strider Sports is a company full of passionate riders of dirt, mountain, street, and road bikes. At Strider, we love riding bikes, and we love inspiring kids to ride. Our mission is to build lightweight, efficient, all-terrain bikes that develop two-wheeled balance, coordination, and confidence in children. The goal of Strider Sports is to simplify a bike to its essence, so that proper size, weight and ease-of-use combine to eliminate any fear of riding; instilling confidence in young new riders. The patented STRIDER™ No-Pedal Balance Bike is now distributed in over 35 countries. To learn more and to find STRIDER Bikes in your area, visit http://www.StriderBikes.com.
About STRIDER No-Pedal Bikes
If your toddler can walk, your toddler can ride! STRIDER™ No-Pedal Balance Bikes were developed specifically to help toddlers and young children learn balance and coordination BEFORE pedaling. The simple, no-pedal design allows even the youngest children to learn to ride on two wheels, avoiding tricycle tip-overs and training wheel wobbles, and instilling considerable confidence and stellar bike handling skills sure to last a lifetime. STRIDER™ No-Pedal Balance Bikes encourage the development of spatial awareness, balance and basic motor skills so that all children can reach their maximum riding potential faster, better and safer. STRIDER Bikes are available at a variety of bike, motorcycle and toy retailers nationwide, and online at http://www.StriderBikes.com.
About Suzuki
Suzuki Motor Corporation (SMC) founded the Motorcycle and ATV Division of American Suzuki Motor Corporation (ASMC), Brea, CA, in 1963. ASMC markets motorcycles and ATVs via an extensive dealer network throughout 49 states. ASMC's parent company, Suzuki Motor Corporation, based in Hamamatsu, Japan, is a diversified worldwide manufacturer of motorcycles, ATVs, scooters, automobiles and marine engines. Founded in 1909 and incorporated in 1920, it has 120 distributors in 191 countries. For more information, visit http://www.suzukicycles.com. Follow Suzuki on facebook for exclusive team content http://www.facebook.com/SuzukiCycles.