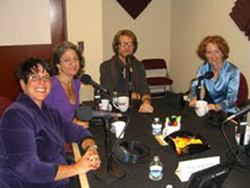 If Georgians were to spend $10 a week on local food, that would pump $3.9 billion into the state's economy.
Atlanta, GA (PRWEB) October 25, 2012
On October 22, 2012, BusinessRadioX®'s High Velocity Radio welcomed several guests to talk about the upcoming Serenbe Afternoon in the Country. Co-host Stone Payton and guest host Kevin Finn spoke with Stacy Zeigler with Les Dames d'Escoffier, Michael Wall with Georgia Organics, Marie Nygren with The Farmhouse Restaurant and Sue Anne Morgan with ideaLand.
The Serenbe Afternoon in the Country event is in its 12th year as a much-anticipated fall food and wine tasting fundraiser. It includes inspired tastings by 85 of the area's renowned culinary artists, paired with local farmers, and joined by top winemakers and brewers under festive big-top tents in the beautiful gardens surrounding The Inn at Serenbe near Palmetto, Georgia. Guests will enjoy live music, the famous cake raffle, children's activities and a huge silent auction offering exclusive dining and travel packages, food and wine merchandise and original art by prominent artists. Proceeds benefit Georgia Organics, Wholesome Wave and the scholarship fund for women in the culinary, beverage and hospitality arts.
Stacy Zeigler is the Chapter President of Les Dames d'Escoffier International (LDEI) Atlanta, the host of Afternoon in the Country. LDEI is a worldwide society of women dedicated to creating a culture in the community that fosters excellence and promotes the achievement of women in culinary professions through educational and charitable activities.
Also joining the conversation was Michael Wall with Georgia Organics, one of the proceeds' recipients of this year's Afternoon in the Country. Les Dames d'Escoffier and Georgia Organics have been partners in what is called the "good food movement" for more than a decade. Les Dames' support has been vital in the work Georgia Organics undertakes to increase the number of organic farmers, the number of consumers eating organic, local food, and the number of children participating in farm-to-school programs.
According to Wall, "If Georgians were to spend ten dollars a week on local food, that would pump 3.9 billion dollars into the state's economy."
Marie Nygren is the Owner and Head Chef of The Farmhouse Restaurant. The Farmhouse, located in the Inn at Serenbe, has received much critical acclaim, including a glowing review in the New York Times, for its farm-to-table approach—serving beloved recipes made with farm-fresh organic ingredients grown just steps away. Marie, who founded Serenbe with her husband Steve, and operated it with the family as a bed-and-breakfast before the community developed, returns to her kitchen in the historic home as proprietress to guide the art of southern cuisine utilizing local products.
Rounding out the discussion was Sue Anne Morgan with ideaLand, producer of Serenbe Afternoon in the Country.
Afternoon in the Country happens on November 4th at Serenbe. This event sells out nearly every year and tickets are going fast. To link to LDEI's registration, as well as listen to the entirety of this interview, please visit High Velocity Radio.
About Stone Payton:
For over 24 years, Stone Payton has been helping organizations and the people who lead them drive their business strategies more effectively. He is a managing partner at BusinessRadioX® and the author of SPEED®: Never Fry Bacon In The Nude: And Other Lessons From The Quick & The Dead, and has dedicated his entire career to helping others produce better results in less time.
About Lee Kantor:
Lee Kantor has been involved in Internet radio, podcasting and blogging since he started the Dr. Fitness and the Fat Guy show in 2005. Since then, Lee has interviewed well over 1000 entrepreneurs, business owners, authors and celebrities on a variety of shows and at live events. In addition to his hosting duties, Lee is a managing partner at BusinessRadioX® and is committed to helping entrepreneurs and business owners in Atlanta learn how to use radio to dramatically grow their businesses.
About High Velocity Radio:
http://highvelocityradio.businessradiox.com
High Velocity Radio celebrates Top Performers Producing Better Results In Less Time. The show brings in business leaders and experts to talk about their methods and to help listeners develop the Competence, Confidence, and Commitment to Succeed With SPEED.
About BusinessRadioX®:
BusinessRadioX® provides a turnkey solution for business owners who want to leverage the power of internet radio to meet their best prospects, establish credibility for their organization and heighten the placement of their brand in search engines rankings. With a professional venue and a proven formula, BusinessRadioX® helps hosts podcast their shows and create a regular stream of dynamic content to share with their prospects and feed the search engines every week. Programs are recorded and streamed live to the internet from our studios in the greater Atlanta area. For more information or to hear a live show, visit: http://www.businessradiox.com.