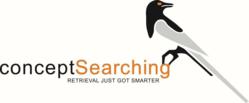 Knowledge is a corporate asset. Being able to maximize its value and manage it in any environment enables relevant information to be presented to different audiences.
McLean, VA, US and Stevenage, UK (PRWEB) October 25, 2012
Concept Searching, a global leader in semantic metadata generation, auto-classification, and taxonomy management software, and developer of the Smart Content Framework™, is pleased to announce that its technologies are available on both Microsoft Office 365 Software as a service (SaaS) platform and Amazon Web Services (AWS) platform as a service (PaaS) and will be demonstrated at the SharePoint Conference 2012, November 12th-15th, in Las Vegas, Nevada, at booth 957.
Concept Searching has now deployed its technology platform on both the Microsoft Office 365 and the Amazon Web Services (AWS) platform, and is able to offer clients a single code base to deploy offerings with increased flexibility whilst mitigating risk. Find full details in the 'Managing Unstructured Content in the Cloud' White Paper.
A key new capability is the ability to deploy Concept Searching technologies in any environment and optionally simultaneously in an on-premise, cloud, or a hybrid environment. Concept Searching's technologies provide solutions for unstructured content management challenges across heterogeneous environments. They bring the benefit of a comprehensive enterprise approach that protects, secures, and maximizes the value of knowledge assets regardless of where they reside.
"Knowledge is a corporate asset. Being able to maximize its value and manage it in any environment enables relevant information to be presented to different audiences, which effectively improves collaboration and information dissemination, and can also drive return on investment," said Martin Garland, President of Concept Searching. "We are able to provide our clients with a choice of environment, and guarantee the same functionality regardless of that environment, offering a flexible solution."
Since Concept Searching technologies are platform independent, the integration of on-premise and cloud solutions removes many of the obstacles facing organizations. Concept Searching's Smart Content Framework™ and technologies improve the ability to manage unstructured content in either or both environments, and address the concerns of security, compliance, privacy protection, managing big data, and synchronization of content from within the technology.
In a Web 2.0 environment, the intelligence being harnessed is unstructured. Social media applications tend to have no formal structure, are usually ad hoc, controlled by end users, and although managed for input are typically not optimized for search or for future analytics. The ability to capture key phrases, or concepts, is a valuable tool for organizations that are reaching out to diverse audiences, and would like to deploy sentiment analysis, text analytics, and real time understanding of the pulse of the their audience. This results in increased responsiveness and the ability to address comments and feedback as they arise.
Specific applications for social media applications, internally or externally, provide structure to unstructured content, such as:

Collaboration portals - internal, shared, external - and enhance retrieval of relevant and precise information
Aggregation and organization for any application that relies on documentation - training, procedures, HR
Gain insight through classification of blog entries to identify key trends, common threads, and pulse of audience feedback
Manage wikis and reduce the overhead resource to vet all entries through auto-classification and concept extraction
Automatically identify any type of organizationally defined confidential or privacy information before it is posted and route to an appropriate repository for disposition
And last, but not least, Concept Searching is a proud sponsor of the 'SharePoint City' Party, to be hosted by Axceler exclusively for attendees at the SharePoint 2012 Conference, on November 14th in Las Vegas. Excited to be a part of this community experience, the Concept Searching team looks forward to seeing its friends, customers and partners at what promises to be a spectacular event. Space is limited so attendees should register now to be part of this SharePoint experience.
Follow Concept Searching: http://www.twitter.com/conceptsearch
About Concept Searching
Founded in 2002, Concept Searching provides software products that deliver conceptual metadata generation, auto-classification, and powerful taxonomy management from the desktop to the enterprise. Concept Searching, developer of the Smart Content Framework™, provides organizations with a method to mitigate risk, automate processes, manage information, protect privacy, and address compliance issues. This information governance infrastructure framework utilizes a set of technologies that encompasses the entire portfolio of information assets, resulting in increased organizational performance and agility.
Concept Searching is the only platform independent statistical metadata generation and classification software company in the world that uses concept extraction and compound term processing to significantly improve access to unstructured information. The Concept Searching Microsoft suite of technologies runs natively in SharePoint 2010, FAST, Windows Server 2008 R2 FCI, Office 365, and in Microsoft Office applications.
The building blocks of Concept Searching's Smart Content Framework™ are being used by organizations from a diverse number of industries including the US Army, the US Air Force, the UK MOD, Baker Hughes, Deloitte, Logica, NASA Safety Center, OppenheimerFunds, Point B, Perkins+Will, Parsons Brinckerhoff, Burns & McDonnell, MarketResearch.com, the US Department of Health & Human Services, Transport for London, the London Fire Brigade, the National Transportation Safety Board, and Xerox.
Headquartered in the US with offices in the UK, South Africa and Canada, Concept Searching solves the problem of finding, organizing, and managing information capital far beyond search and retrieval. The technologies are being used to drive intelligent migration, enable effective records management, identify and lock down sensitive information and enhance governance. For more information about Concept Searching's solutions and technologies please visit http://www.conceptsearching.com
All product and company names herein may be trademarks of their respective owners.