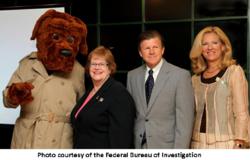 Arlington, VA (PRWEB) October 25, 2012
In recognition of both Crime Prevention and National Cyber Security Awareness Month, the National Crime Prevention Council (NCPC) and its Celebrate Safe Communities (CSC) initiative joined forces with the U.S. Department of Homeland Security (DHS) and Federal Bureau of Investigation (FBI) to host Crystal City Cybersafety Day Tuesday. The day-long event was held to announce the new partnership and emphasize the importance of cybersafety for local residents, businesses and visitors in the Crystal City, Virginia area.
NCPC President and CEO Ann M. Harkins offered keynote remarks highlighting the increasing importance of crime prevention partnerships at a time of increasing law enforcement budget cuts. Accompanying Harkins was Suzanne Spaulding, Deputy Under Secretary, U.S. Department of Homeland Security, who announced NCPC is joining the Stop.Think.Connect. Campaign's National Network. Michael Kortan, Assistant Director of the Office of Public Affairs, Federal Bureau of Investigation, followed Harkins and Spaulding in addressing the crowd, as the FBI has partnered with Celebrate Safe Communities' Cybersafety Week, providing more than 40,000 print and online resources to CSC sites across the nation. Space for the event was provided by Vornado/Charles E. Smith of the Vornado Realty Trust. Photo, courtesy of FBI: http://bit.ly/UDBl3t
The Stop.Think.Connect. Campaign, which launched October 2010, is an initiative of DHS. The new partnership with NCPC will help to promote cyber security awareness to millions of Americans and their neighborhoods via new tools and resources about emerging online threats and the importance of adopting safer online practices.
NCPC's year-round CSC initiative, which was launched in 2008 in partnership with the National Sherriff's Association (NSA) and the Bureau of Justice Assistance (BJA), U.S. Department of Justice, is designed to spotlight communities' crime prevention efforts, enhance public awareness of vital crime prevention and safety messages, and recruit year-round support for ongoing prevention activities. The addition of venerable CSC partners like the FBI and DHS ensures an even wider reach to local law enforcement personnel and the public. For more information on Celebrate Safe Communities or to register a local CSC event, please visit: http://www.celebratesafecommunities.org.
About the National Crime Prevention Council
The National Crime Prevention Council is the nonprofit leader in crime prevention. For 32 years, our symbol of safety, McGruff the Crime Dog®, has delivered proven crime prevention information and tips to keep individuals, families, schools, and communities safe from crime. Law enforcement agencies nationwide rely on our expertise to make an impact on personal safety and crime every day. For more information on how NCPC can be a public safety expert for you or how to "Take A Bite Out Of Crime®," visit http://www.ncpc.org.
Become a fan of NCPC: Friend us on Facebook | Follow us on Twitter | Find us on YouTube
###