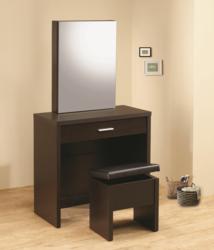 eFurnitureHouse continues to offer better and luxurious assortment of vanity tables that serve our customers' need for gifts at compelling prices
Orange, CA (PRWEB) October 26, 2012
eFurnitureHouse is unveiling an extensive assortment of vanity tables and makeup tables as the countdown begins to the upcoming Christmas shopping season. With only 56 days left until Christmas, shoppers will discover and enjoy the extensive assortment of trendy vanity tables as well as taking advantage of the various discounts and coupons offered. Starting with Halloween eFurnitureHouse is offering a $15 off any makeup table, coupon code VT15, as well as offering $75 OFF any purchase over $999.
"eFurnitureHouse continues to offer better and luxurious assortments of vanity tables that serve our customers' need for gifts at compelling prices", noted company spokesperson Tony Ashford.
The distinctive collection showcased brands such as Coaster Furniture, ACME furniture, Poundex Furniture, Powell Furniture, and The Best Masters all at an affordable price.
Among the recommended gifts is the Taylor glossy cappuccino vanity desk, Ria espresso makeup table, Charlotte soft white makeup vanity table set, Katherine white chrome glass dressing table set, and Christine white makeup dressing table set.
Accent coffee tables demand a second look this holiday season with distinguishing characteristics that prove visually inviting with focus on detailing and bent or winding shape. A curved motif serves as the focal point in Alena modern rose gold finish glass coffee table, abstract shape base in the 32" Armada satin square glass coffee table, a twisting motif serves as the focal point of 38" Alvita chromed square glass coffee table, and twin oval shaped motif in 48" Anzu modern chromed glass coffee table.
Beside the various product introductions, the biggest news coming out of eFurnitureHouse is that black Friday 2012 discounts will this holiday season be extended from Monday November 19th through Friday November 23rd. This extended sale period enables shoppers to browse and shop without the pressure that comes with Black Friday Sales.
As friends and family come together for the annual tradition of Thanksgiving Day dinner, eFurnitureHouse is unveiling an extensive assortment of elegant dining tables just in time for the upcoming thanksgiving holiday. The collections released includes the 78" Harrison rich cherry formal dining table set, the luxurious 116" Perryton rich warm cherry formal dining table set, 66" Mason rich medium brown dining table set, 78" Brady dark espresso pedestal dining table set, and 78" Gunnison espresso modern dining table set. Each set introduced has distinctive style and character to meet individual taste and various décor needs.
Furthermore, .eFurnitureHouse is introducing various types' discounts on all dining tables offered, such as 5% off any purchase over $799, and $75 off any order over $999 and other various bulk purchase discounts.
At eFurnitureHouse, whatever your style is, you will find furniture delight, from dining room to bedroom, children's furniture to game room furniture; you will find the furniture piece that makes the room stand out.
EFurnitureHouse.com is an Orange County, California based online retailer with close ties to major furniture manufacturers on both sides of the Pacific, which enables it to offer the consumer the latest trends in furniture at the lowest possible prices.