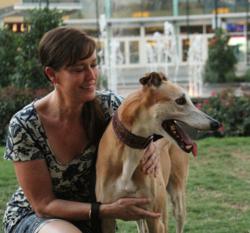 Richmond, VA (PRWEB) October 25, 2012
Children's author Suzanne Burke was born and raised in the Richmond, VA area. She attended high school at Midlothian High and still has strong ties to the area even though her path has led her south to Dallas, Texas. She's always excited when her work takes her back home as it will the end of this month.
On Friday, October 26th at 9:00 am, Suzanne will be appearing on Richmond's Virginia This Morning show WTVR-TV/DT. Then Saturday, October 27th at 11 am, she and her greyhound friends from James River Greyhounds will stop in at the Richmond Public Library - main downtown branch for story time. Children ages 4 and up are invited to attend with their parents to talk with Suzanne, hear some of Logan's story and meet some retired racing greyhounds.
After the library event, Suzanne will hurry to PetSmart in the White Oak Village Shopping Center at 4531 S. Laburnum Ave. around 1:00 pm where she'll sign books and take part in the festivities there hosted by the Virginia Greyhounds Adoption Group for their monthly Meet and Greet event where a good time should be had by all! There's no charge for attendance at any of these events.
The second edition of Logan's Secret by Suzanne Burke includes 20 additional pages of greyhound facts and history. The book, based on real-life incidents, offers children ages seven and up an inspiring story of survival, along with important lessons in goal setting and perseverance. The 110-page illustrated, modern day classic centers around Logan, a retired racing greyhound and is told from the champion racing dog's perspective, which makes for fascinating reading by children and the young-at-heart.
Readers are then treated to twenty additional pages with fun facts and history of greyhounds – one of the oldest and most intriguing breeds in the world. And like the first edition of Logan's Secret, the second edition offers educational projects for children to stimulate creative writing, expanded vocabulary, and critical thinking.
"Logan's exciting adventure from racetrack to forever home is remarkable enough," says author Suzanne Burke, "but the life lessons he teaches because of that journey are worth sharing with readers – especially children." Ms. Burke adds, "It's also my hope that readers will want to learn more about this wonderful breed of dog and consider adopting one of the many greyhounds needing a forever home."
Books for the Richmond events will be specially priced at $10 each with a percentage benefiting the Greyhound Adoption League of Texas (GALT) and other greyhound adoption groups. Learn more at http://greyhoundstories.com/.
# # #
PJ Nunn 972-825-1171
Nunn.pj33(at)gmail(dot)com
http://breakthroughpromotions.net