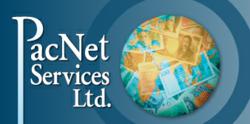 PacNet provides a wide range of both inbound and outbound payment processing services to the payday loans industry
Vancouver, BC (PRWEB) October 24, 2012
PacNet Services, a Vancouver-based company that offers inbound and outbound payment processing services to companies around the globe, will attend the British Cheque Cashers Association Conference, November 14, 2012 in Manchester. The BCCA Conference, subtitled 'Survival of the Fittest', will provide an opportunity to gain insight into the challenges the industry is currently facing on an economic, political and regulatory front.
A payment expert will be on hand at the PacNet booth, ready to confer with online lenders regarding both international and domestic payment solutions. "PacNet provides a wide range of both inbound and outbound payment processing services to the payday loans industry. With PacNet, companies can provide loan advances through UK Faster Payments and other locally relevant payment facilities, and accept repayment by debit card and direct debit. There is no need to open new bank accounts, or ever deal with the banks at all." states Brian Weekes, VP of Business Development, Europe, for PacNet Services. "Clients will also benefit from our decades of experience when navigating the new regulatory framework".
Established in 1994, the BCCA is the trade association for businesses providing unsecured short term loans, such as payday loans, and/or third party cheque cashing services. Their years of industry experience are extended to their 800 plus membership, including delivering information in a timely fashion, offer training courses to ensure that companies are up to date with the latest regulatory changes and providing advice and support.
About PacNet Services:
Vancouver based PacNet Services is an international payment processing company that offers a diverse range of both traditional and electronic inbound and outbound payment services for companies around the world. Some of the payment facilities offered by PacNet include credit card processing in multiple currencies, direct debit, EFT, ACH, check processing and bank transfer collection. PacNet also issues payouts by cheque and EFT for refunds, rebates, commissions and royalties both in major and developing markets.