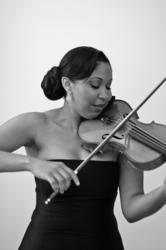 Baltimore, MD (PRWEB) October 25, 2012
In keeping with the broader vision of inclusivity and relevance within the community that has characterized the Baltimore Symphony Orchestra (BSO) under Music Director Marin Alsop, the BSO announces a new pilot Orchestra Fellows Program. The BSO's Orchestra Fellows program is conducted in partnership with Sphinx, the non-profit organization that seeks to overcome the cultural stereotype of classical music and promote diversity in the arts. The Orchestra Fellowship is intended as a year-round mentorship program for talented young musicians of color. Tami Lee Hughes, a violinist and Baton Rouge, La. native, has been appointed the Orchestra Fellow for the program's inaugural 2012-13 season.
While in residence with the BSO, Ms. Hughes will perform with the BSO in concerts throughout the season, and also work with a number of key BSO education and community engagement initiatives, including OrchKids, the year-round, after-school music education program for youth in Baltimore City, BSO On the Go, and the Baltimore Symphony Youth Orchestra programs. Ms. Hughes will be mentored by BSO Associate Principal Second Violin Ivan Stefanovic and Violinist Gregory Kuperstein, in preparation for the several orchestral auditions she plans to take this year. Further, Marin Alsop will mentor Ms. Hughes and provide insight about what is needed to be a well-rounded orchestral musician, given the shifting role of orchestras in the 21st century.
The initiative expands further the role of BSO musicians as mentors, an increasingly important part of the organization's exciting vision in such programs as Rusty Musicians, the BSO Academy and most recently the Baltimore Symphony Youth Orchestras. In creating opportunities to engage musicians of color, the Fellowship intends to create a welcoming destination as one proactive step to address the lack of diversity nationally in today's major symphony orchestras.
"Tami is the full package," said BSO Vice President of Education Carol Bogash. "She is not only an exceptional musician, but her experience makes her an asset to our Orchkids and the BSO's other community initiatives. She has a bright future and this Fellowship is just one step on her path toward a promising career."
Tami Lee Hughes will be blogging about her experience throughout the season at BSOmusic.org/Fellow. Below is an excerpt from her first post, which described her experience performing with the BSO for the recent "Golden Age of Black and White" program:
On the night of our debut performance, I arrived at the hall a few hours early. There was a buzz backstage as orchestra musicians, singers, stage technicians, and other staff members prepared for the performance. Although I didn't feel nervous, I was very excited. I felt a swift rush of energy as Maestro Everly gave the opening downbeat. With the audience lights dimmed, the stage came to life. Lights, costumes, singers, and instrumentalists filled the stage with Maestro Everly at the center of it all waving his magic wand. By the time we played my favorite tune of the night, Mambo Italiano, we were in full swing! The energy was so contagious I wanted to get out of my seat and dance…
About Tami Lee Hughes
The passion and expressive qualities of violinist Tami Lee Hughes are marked by her success as a premier artist. As soloist, she has appeared with a number of symphony orchestras across the United States, including the National, Monroe, Mississippi and Pontiac-Oakland Symphony Orchestras among others. She has extensively appeared as recitalist in universities and concert venues in the United States, Costa Rica, Bermuda, Austria and Russia and has performed as solo or chamber artist in the Dame Myra Hess Memorial Concert Series, Ann Arbor Chamber Fest, Natchez Festival of Music, Silver Anniversary Celebration of the New Arts Cultural Society and a tribute concert to composer Judith Zaimont, broadcast on National Public Radio. Other notable appointments include appearances with the Rocky Mountain Orchestra, Aspen Music Festival Opera Orchestra, Emerald Sinfonietta, Sphinx Symphony Orchestra and Pro Consorde Chamber Consort.
In August of 2011, Albany Records released Hughes' debut solo album Legacy: Violin Music of African-American Composers. The recording features music for violin and piano by Francis Johnson, George Morrison, David Baker, Ozie Cargile and Chad "Sir Wick" Hughes. Her performance of Ballade for Violin and Piano appears on Vocalise, a compact disc of music by composer Brian Nelson released in 2010. As chamber musician, Hughes performs on Music for Piano and Chamber Orchestra, a Profil recording featuring performances by Ksenia Nosikova of works by Liszt, Mendelssohn and Clementi.
An artist of versatility, Hughes has numerous performance credits in popular music and film. She performs as violinist for the film music of The Only Good Indian, a 2009 Sundance Film Festival motion picture. She also performed in orchestras for national productions of Annie and Les Misérables and has recorded as studio violinist for Chad "Sir Wick" Hughes and Grammy award-winning artists Aretha Franklin, Fred Hammond and Donnie McClurkin. She has appeared in live concert with Smokey Robinson.
In addition to performing, Hughes is an active teacher and advocate for music outreach. She has taught at the University of Kansas, Marygrove College, Interlochen, and the Ann Arbor School for Performing Arts. She also performs outreach programs in public schools, rendering concerts and serving as guest clinician at institutions across the country.
A native of Baton Rouge, Louisiana, Hughes received a Bachelor of Music degree from the University of Minnesota, and Master's and Doctorate degrees from the University of Michigan. Teachers include Nancy Langham, Jana Burton, Sally O'Reilly, Camilla Wicks, and Paul Kantor.
About the Baltimore Symphony Orchestra
The Grammy Award‐winning Baltimore Symphony Orchestra (BSO) is internationally recognized as having achieved a preeminent place among the world's most important orchestras. Acclaimed for its enduring pursuit of artistic excellence, the BSO has attracted a devoted national and international following while maintaining deep bonds throughout Maryland with innovative education and community outreach initiatives.
The BSO made musical history in September 2007, when Maestra Marin Alsop led her inaugural concerts as the Orchestra's 12th music director, making her the first woman to head a major American orchestra. With her highly praised artistic vision, her dynamic musicianship and her commitment to accessibility in classical music, Maestra Alsop's leadership has ushered in a new era for the BSO and its audiences.
Under Music Director Marin Alsop's leadership, the BSO has rapidly added several critically acclaimed albums to its already impressive discography. The BSO recently released Dvořák's Symphonies Nos. 6, 7 and 8, the final two discs in its three‐disc Dvořák cycle. In August 2009, the BSO and Marin Alsop released Bernstein's Mass featuring baritone Jubilant Sykes, the Morgan State University Choir and the Peabody Children's Chorus. The album rose to number six on the Classical Billboard Charts and received a 2009 Grammy nomination for Best Classical Album. The Orchestra made its foray into online distribution in April 2007 with the release of a live concert recording of Stravinsky's The Rite of Spring on iTunes, which quickly became the site's number one classical music download.
In addition to the Joseph Meyerhoff Symphony Hall, where the orchestra has performed for 28 years, the BSO is a founding partner and the resident orchestra at the new state‐of‐the‐art Music Center at Strathmore, just outside Washington, D.C. With the opening of Strathmore in February 2005, the BSO became the nation's only major orchestra with year‐round venues in two metropolitan areas.
###