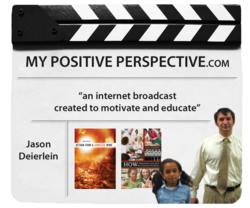 a brain injury occurs once every six seconds in the United States
Charleston, SC (PRWEB) October 25, 2012
In October, 2012, My Positive Perspective founder Jason Deierlein hosted an episode with fellow brain injury survivor Tate Mikell. The episode was hosted along with South Carolina Brain Injury Association board member Marsha Mikell, and the group spoke on the Brain Injury Association's desire to inform the public on the support, advocacy, and prevention methods available to the public. Marsha Mikell who is the leader of the Charleston branch said, "Education about ways to avoid having a brain injury is a big part of what we try to do." The frequency of a brain injury occurring is something the public easily forgets.
One brain injury occurs every six seconds in the United States and it is the leading killer for people ages 1-44. My Positive Perspective host Jason Deierlein says, "Brain injuries sometimes can't be avoided, and after one occurs, the individual will be different in some way." The recovery process after a brain injury can be confusing and lonely. To remedy this, the three want to inform the public that there are outlets to better understand the many different types of brain injuries. Friends and family members of brain injury victims should also get involved with this group so they can better assist the victim.
On the meetings themselves, Deierlein says, "I've been to some of the meetings myself, and they are about helping each other. I always do my best to keep people thinking positive after having a brain injury because your actions depend on your train of thought." This group is determined to help each other by sharing what thoughts and actions they experience as they recover from a brain injury.
My Positive Perspective is an internet talk show created for the purposes of overcoming adversity. We educate and inspire in many different ways and talk about different types of obstacles, but the ultimate goal of this business is to spread positively and strengthen wherever there is a weakness or tragedy to overcome. I myself survived a car accident, coma, and painful rehabilitation. I consider myself lucky to be here and providing the public with this free service. This company is kind of my gift to myself for achieving. The one thing you never lose after surviving a tragedy is desire to help. Don't be afraid to go!
http://mypositiveperspective.com/