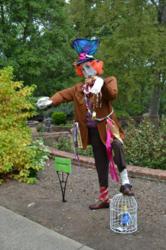 Nashville, Tenn. (PRWEB) October 25, 2012
Hi5 Creative received the award for Best Literary Theme for their Mad ScraHatter scarecrow submission in Cheekwood's Scarecrows exhibition now on display.
The Hi5 Creative team entered the contest as a fun way to build company morale. The team spent over 30 hours designing, creating and assembling their Mad Hatter themed scarecrow. The Mad ScraHatter was created almost entirely from homemade or recycled components and featured a painted milk jug face among other elements. Non-homemade items were purchased from local thrift stores benefiting the Donelson-Hermitage community.
"We wanted to create a scarecrow that was colorful, memorable and recognizable," said Sierra McMillan, Creative Director of Hi5 Creative. "Our interpretation of the Mad Hatter really encompasses all three elements."
Over 40 scarecrows were submitted in the exhibit and each entry was judged by both the staff and members of Cheekwood. One winner was selected in each category. Categories included Best Literary Theme, Staff Favorite and Member Favorite.
"Our scarecrow's success really proves that our creativity stretches beyond the digital realm," McMillan added. "Being able to handcraft something of this size and receiving such an accolade is a unique accomplishment for the Hi5 team."
The Cheekwood Harvest Festival runs through the end of October.
For more information about Hi5 Creative, please visit http://www.hi5creative.co.