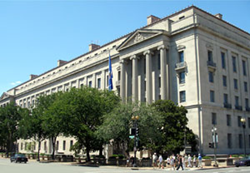 NEW YORK, New York (PRWEB) October 29, 2012
According to U.S. Department of Justice, in fiscal year 2012, whistleblowers bringing cases under federal and state false claims acts helped the government to recover over $9 billion. This total included criminal fines as well as several large state False Claims Act settlements.
Healthcare fraud still represents the largest number of False Claims Act recoveries, at both the state and federal levels. However, relators blowing the whistle in areas such as banking, mortgages, and pensions are on the rise.
Among the top 30 cases of 2012, the bulk involved the illegal marketing or price inflation of prescription drugs resulting in Medicaid and Medicare fraud. Another significant area was mortgage and bank fraud, including HUD and FHA home loan approval. Home healthcare upcoding and billing fraud was also significant, as was kickbacks in the medical device arena and defense contractor fraud.
The 17th largest recovery for 2012 was the $70 million recovery from New York City that the whistleblower attorneys at Levy Phillips & Konigsberg LLP won under the Federal False Claims Act*. The United States intervened in the case, brought by whistleblower Dr. Gabriel Feldman, which alleged that NYC had not followed Federal and State Medicaid regulations since 1993, inflating cost of a program placing 24-hour aides with recipients to help with shopping, cleaning, bathing and other non-medical tasks.
While it is still early to predict 2013 recoveries, over $3.5 billion in anticipated False Claims Act settlements are already reported to be on the horizon.
If you have knowledge and evidence of fraud involving federal, state or local funds, anywhere in the United States, contact a whistleblower attorney at Levy Phillips & Konigsberg LLP at 212-605-6200, or toll free at 1-800-988-8005, for a free consultation.
*U.S. ex rel. Dr. Gabriel Feldman v. the City of New York, No. 09-CIV-8381 (S.D.N.Y.)