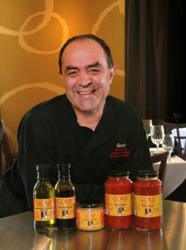 I'm thrilled to continue to be part of the Laidley's Ladies and Gentlemen and help save lives—one bite at a time!
Dallas, TX (PRWEB) October 25, 2012
Just in time for the holidays, a mouth-watering assortment of gourmet pasta sauces, dipping oil and marinade and vinaigrette salad dressing from the kitchen of award-winning Chef Gorji's intimate Dallas restaurant, Canary by Gorji are available in special holiday packages with 15% of the proceeds donated to Laidley's Ladies Foundation, a Dallas-based non-profit foundation, that raises funds for breast cancer research and assists under-funded families in achieving excellent breast cancer care.
A great gift for busy cooks, the package creates the foundation for a restaurant-quality meal and includes Pomodoro Sauce, Puttanesca Sauce, Pomegranate Vinaigrette, Dipping Oil & Marinade Primer, two pastas, recipes and "Cooking With Gorji" DVD. The culinary gift packages start at $68.50.
Chef Gorji, who has experienced breast cancer striking his family and friends, says he wanted to join the fight from his battlefield, the kitchen. "I'm thrilled to become part of Laidley's Ladies and Gentlemen and help save lives—one bite at a time!"
The specialty gourmet packages, ideal for personal as well as corporate gift-giving, are available online and at the restaurant.
ONLINE: Gorji Gourmet Holiday Gift Packages
AT CANARY BY GORJI RESTAURANT: Call 972-503-7080
Chef Gorji's product line Gorji Gourmet Foods®, which includes Pomodoro and Puttanesca Sauce, Dipping Oil & Marinade Primer, Pomegranate Vinaigrette and Spicy Remoulade are available for purchase at Canary by Gorji Mediterranean Steak & Seafood restaurant, DFW Whole Food Markets®, and the following gourmet stores in the Dallas area: Jimmy's Food Store, Bolsa Mercado, Celebration, and Sara's Market & Bakery. The products are also available online at Artizone.com and http://www.gorjigourmet.com.
Canary By Gorji Mediterranean, Steak & Seafood offers a boutique wine selection and is open for dinner Tuesday–Thursday, 5-9:30 p.m. and Friday – Saturday, 5-10:30 p.m. 5100 Belt Line #402, Dallas, TX 75254. For more information visit http://www.canarybygorji.com.