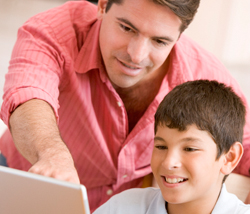 Chicago, IL (PRWEB) October 25, 2012
With the school year in full-swing and SATs and finals looming, many parents and students are consulting tutors and education specialists to help achieve academic goals. While working with an expert might be the appropriate course of action, finding the right person for the job is a critical and potentially difficult task.
WyzAnt.com, the nation's largest directory of in-person tutors, has compiled the following five tips to help parents and students find the perfect tutor this fall.
1. Match the tutor to the student's learning style
Each student has unique needs when it comes to the learning process, and tutors who are successful with one student may not be as successful with another. First, ask your school counselor to help you determine whether your child is an auditory (learns best by listening), kinesthetic (learns best through experience) or visual (learns best by sight) learner. Share this information with the tutor and discuss whether or not their teaching style and approach to lessons will be a good fit. WyzAnt.com's verified network of private, in-person tutors allows students and parents to easily compare tutor profiles and teaching styles prior to beginning lessons.
2. Request credentials and references
Depending on the topic, it is important to understand your tutor's mastery of the subject in addition to his/her teaching style. Degrees obtained and coursework studied can help you understand your tutor's capabilities, but sometimes, objective anecdotes and recommendations from past clients can be even more valuable.
3. Think safety
When working with a private tutor, it is important to establish a relationship that feels comfortable and safe for all parties involved. Background checks provide a reliable starting point. In addition, the student should have a work environment he/she is comfortable in, free from any outside distractions.
4. Require feedback and open communication
Establishing a productive relationship between a tutor and student is an important process that may take time. Consistent communication among the parents, student and tutor will facilitate this process and ultimately benefit the student. WyzAnt tutors are required to provide feedback after each lesson occurs so that parents and students will have a documented history of the topics covered during each lesson. Consistent communication is important and can help avoid misunderstandings that can damage the relationship such as questions about billing or a tutor's policies related to things like canceled lessons. Having a third party involved can help by removing these types of administrative burdens, allowing the tutor and student to focus 100% of their attention on each lesson.
5. Set goals
No two students are alike, and the student's initial understanding of a subject in addition to his/her motivation to work hard and learn the subject will impact the perceived success of the tutoring relationship. In a survey of more than 625 WyzAnt tutors, 53% of respondents believed their students could achieve a full letter grade improvement with five or fewer hours of private tutoring. Establishing healthy, realistic goals prior to beginning lessons, whether it's grade improvement or general understanding and comprehension, can generate motivation and help all parties appreciate the value of the tutoring lessons.
###
About WyzAnt.com
WyzAnt.com is the largest marketplace for tutors and students, dedicated to promoting education by offering students one-on-one instruction and annual college scholarships opportunities. WyzAnt maintains an "A+" rating with the Better Business Bureau and allows students to begin lessons with the security of a 100% satisfaction guarantee. To learn more and to hear what WyzAnt customers have to say, find WyzAnt Tutoring on Facebook.