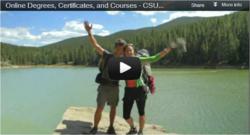 Fort Collins, Colo. (PRWEB) October 31, 2012
CSU OnlinePlus worked with Definite Productions to produce 10 videos featuring the school and its various online degree programs. These videos will ultimately be found on the OnlinePlus degree overview pages, giving prospective students a more visual element to look at when thinking through the value the school provides. When sorting through online degrees and trying to find the best online colleges, there is nothing like a short video that shows potential students exactly what to expect from CSU's online education experience.
Checked them out, and it never hurts to 'like' them and make a comment, or just view them and say nothing. Whatever works!
The general video features CSU OnlinePlus and the benefits of online learning, and several degree specific videos like this one showcase the outcomes students can expect from CSU's online programs.
For the rest of the new videos, visit Youtube page. Be sure to subscribe, as there will be more videos uploaded in the coming months.
Enjoy!