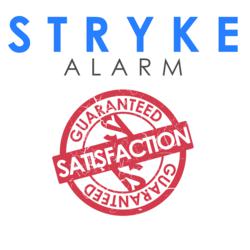 Achievements such as these are noteworthy and give pride to everyone involved with Stryke Alarm
Denver, CO (PRWEB) October 25, 2012
Recently, Stryke Alarm decided to take their service a step further by assessing their business performance by surveying their customers on the value of their products and services. Using an extensive customer survey, Stryke security found that over 96% of surveyed customers are satisfied with the level of service they have received from the company; over 94% are confident in their security alarm system; and over 93% credit them for their equipment's ease of use. For a company that is yet in its early stages, this is a success and an accomplishment that bespeaks great potential.
That is why Stryke Alarm moves forward to serve better and serve more. Unlike other security alarm businesses which sell their alarm monitoring contracts thereby transferring their responsibilities to other companies,Stryke Alarm retains ownership and control of all their accounts. This enables them to provide better services by growing with each of their customers. It also affords more room for expansion. Currently, the Stryke Alarm company operates in Alaska, Colorado, Idaho, Kansas, Kentucky, Montana, Ohio, Pennsylvania, South Dakota, Texas, and Washington, making for a wide customer base across the United States. But that's not stopping them. Stryke Alarm continues to pursue licenses in the states of Florida, Oregon and New Mexico, in the hopes of extending their market and continue to do so looking at Minnesota, Illinois, Virginia, Arizona and Nebraska as future markets. This aggressive strategy has helped make Stryke Alarm extraordinary.
Achievements such as these are noteworthy and give pride to everyone involved with Stryke Alarm, be it management or customer. Management knows they are going in the right direction and customers know they're dealing with the right company.