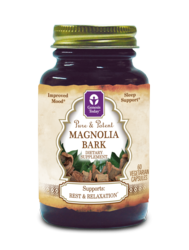 When looking for a supplement product, it's time that people become passionate and educated about accepting only purity in their products.
Austin, Texas (PRWEB) October 24, 2012
Genesis Today, one of the nation's fastest growing healthy superfood, beverage and whole food supplement companies, launched today 100% pure and potent Magnolia Bark extract in 400 mg vegetarian capsules. The new Magnolia Bark capsules contain only wild-harvested Magnolia Bark extract standardized to contain strong amounts of the key natural compounds Honokiol and Magnolol and absolutely zero binders, zero fillers and zero excipients. Genesis Today's Magnolia Bark Extract is now available online at http://www.genesistoday.com.
As seen on National TV, Magnolia Bark contains key natural active compounds Honokiol and Magnolol that work synergistically and effectively to support rest and relaxation. Magnolia Bark has been used in traditional natural medicine for centuries in China and Japan, and around the globe for everything from curbing the symptoms of the common cold to supporting the fight against Alzheimer's disease. In addition, more recent research has shown promise that Magnolia Bark can provide positive support for the waistline with weight control benefits.
Genesis Today's new Pure & Potent Magnolia Bark for sleep, relaxation and positive moods contains only pure Magnolia Bark extract derived from wild-harvested Magnolia trees. Unlike other companies that add unnecessary herbs to their Magnolia and "sleep-and-stress aid" products, Genesis Today only fills its vegetarian capsules with all-natural concentrated Magnolia Bark Extract, just as Mother Nature intended, with no binders, fillers, excipients or any "other ingredients"!
"Magnolia Extract has been a key natural ingredient in my 29 years of clinical experience for supporting numerous health concerns and especially for my clients who were dealing with issues caused by stress and anxiety. When you go to the core and relieve the stress, you address so many of the side effects caused by stress, such as lack of sleep, an over-acid body, weight gain, back & neck stress, even your frizzy hair and dry skin and especially constipation can be attributed to stress," said Naturopathic Doctor and Celebrity Nutritionist Dr. Lindsey Duncan, founder and CEO of Genesis Today, Inc.
"When looking for a supplement product, it's time that people become passionate and educated about accepting only purity in their products. Binders and fillers like magnesium stearate, silica, brown rice flour, microcrystalline cellulose, hydroxypropyl, methylcellulose, artificial colorings, artificial sweeteners and artificial flavors exist and many of them are not good for our health, but they are great for manufacturers to make manufacturing cheaper and faster and to add to a product as a cheap 'filler.' With any supplement, if you want to see and feel real results, I recommend you keep your standards high and select only a pure, potent and clean product," he added.
For more information about Genesis Today's Pure & Potent Magnolia Bark extract, visit http://www.genesistoday.com.
About Genesis Today
Genesis Today, located in Austin, Texas, is a world leader in creating nutrient-rich products made from all-natural superfoods. Genesis Today produces 100% pure superfruit juices such as Acai Berry, Cranberry Goji, Pomegranate & Berries with Resveratrol and Omega Orange available at Walmart, Sam's Clubs and other fine grocery stores, clubs and mass retailers. Genesis Today also has a line of 100 percent pure liquid and plant-based nutritional supplements sold at Whole Foods Market and other natural products retailers. Genesis Today is a fast-growing, innovative company that's passionate about formulating healthy products – making Inc. Magazine's Inc. 500|5000 list of fastest growing companies for the last four years in a row. The company was founded by leading naturopathic doctor and celebrity nutritionist Dr. Lindsey Duncan of http://www.drlindsey.com. Learn more at http://www.genesistoday.com or follow Genesis Today on Facebook and Twitter.